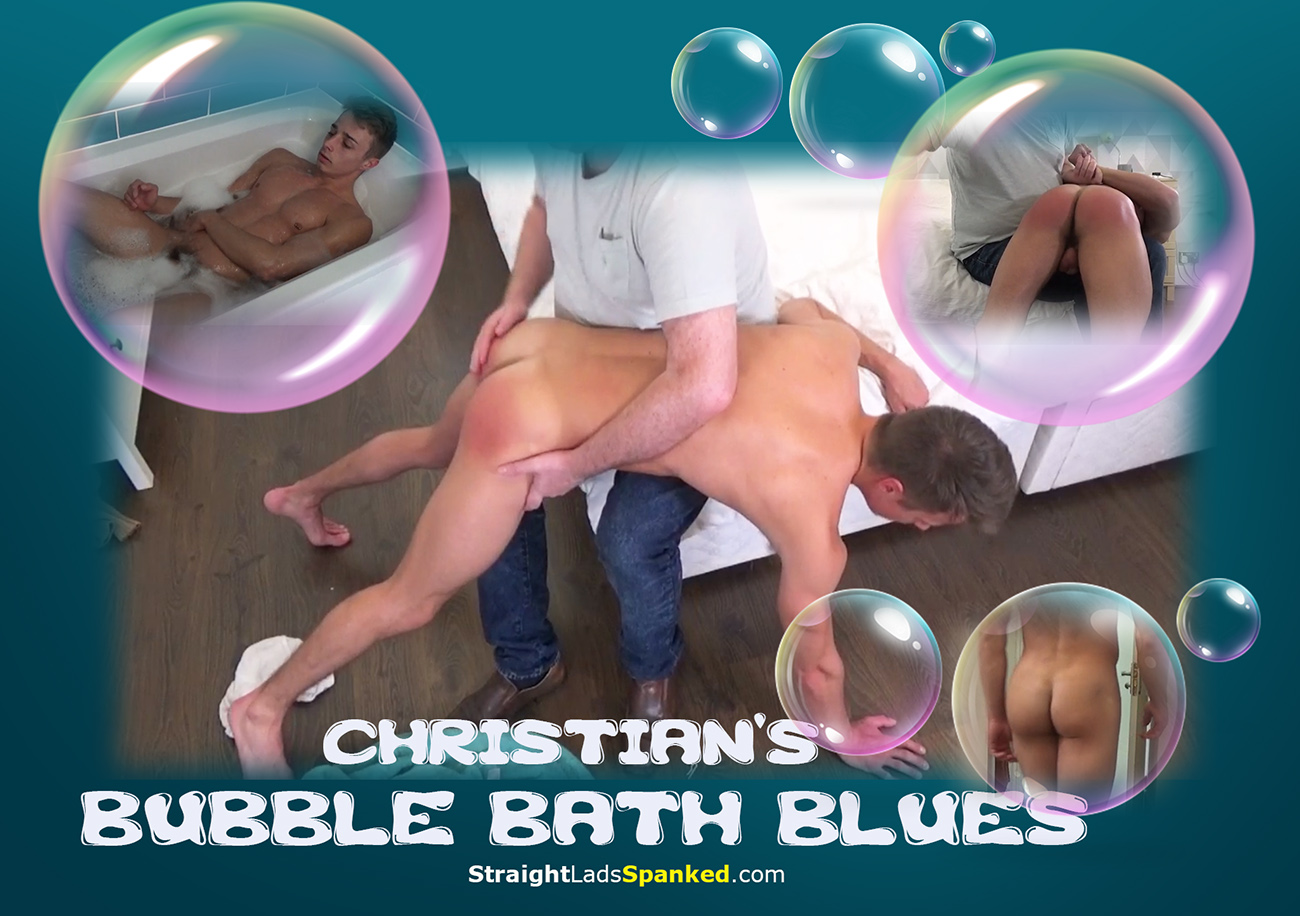 Straight Lads Spanked : Christian's Bubble Bath Blues (part 1 of 2)
Christian seems to regularly be in need of a good bare bottom spanking and you will be pleased to hear today is no exception!!
 text
In previous episodes, from Straight Lads Spanked we've already seen Christian getting his bare bottom warmed over his dad's knee more than once (Here and Here) for being a lazy slob around the house.
In this new instalment we find Christian stripping off in his room – and, typically, leaving his clothes strewn all over the floor
before he strolls naked across the landing, heading towards the bathroom
with his pert, white and still unspanked (for now) bottom an enticing sight
and gets into the bath for a long soapy soak (a longer, more revealing, interlude than is shown here).
*
Click here or on the Continue Reading tab below to see more.
*
______________________
A short time later, Christian's Dad comes upstairs and sees the clothes all over the floor, he then finds a betting slip in the pocket of Christian's jeans…. for a £375 bet! Confronting his wayward son as he lies in the bath, Dad's worst suspicions are confirmed; Christian has lost his entire wages for the week, and now has none left to pay his rent!
Warning him that he is going to get a good smacked bottom, Dad tells Christian to get out of the bath, while he goes to Christian's room to wait for him. Reluctantly, Christian does as he is told.
Over Dad's knee the lad goes, to be spanked first on his towel-clad behind.
But Dad knows a spanking through a towel is not going to get through to Christian!
So it's not long before the towel is on the floor, and a now fully nude Christian goes back over his father's lap
This naughty lad is in for a sound and well deserved spanking on his damp, bare bottom!
As Christian discovers spankings sting even more after a hot bath!!
At pains, like the responsible parent he is, to point out the perils of gambling, Dad asks how Christian plans to buy petrol to get to work, or fund his mobile phone contract, now that he has thrown away his wages on a silly bet. Not for the first time, it looks like Christian hasn't really thought this whole thing through….