This is the third and  part of the series of  three articles first published by TD Monthly magazine in 2009 to celebrate their tenth anniversary
The Subject of this third and final article is that most intimidating of authority figures Mr Andrews, better known to JockSpank readers as Dr Barton 
________________________________
TD MONTHLY EDITOR'S NOTE

Part three of "The 39 Steps": an interview with Mr. Andrews of Sting fame.

MR. ANDREWS (A.K.A. Dr Barton)
Q1. You play the role of Headmaster very well: very eloquent, and you come over as a typically strict disciplinarian. Is this a natural ability or has there been any kind of formal training in this role?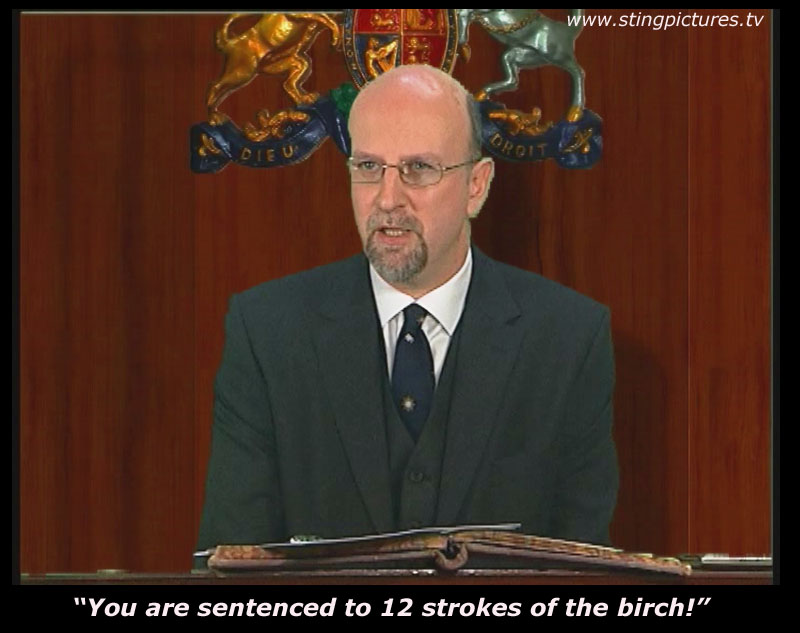 A. It's very good of you to say so. I've not had any formal training, although in my professional life I teach history in higher education. I did amateur dramatics when I was a teenager both at school and in a local dramatic society, so I suppose I'm a frustrated actor! I find that it's a question of finding the assertive part of my personality and developing that. It also comes from watching other actors on the stage and in films and TV, etc. and seeing things which work and can be used.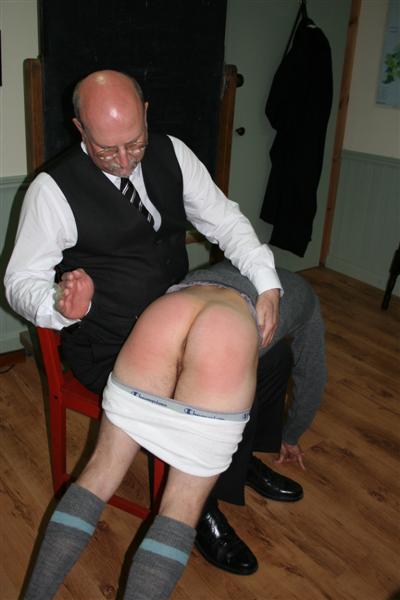 Q2. Along the same lines as Question 1, in addition to the eloquence, there is also an element of sarcasm when you play the role of disciplinarian, which I personally find very entertaining. Is this sarcasm something you intend to bring to a role, or is it something that occurs off the top of your head?
A. I've always enjoyed the way schoolmasters in the past used sarcasm as a way of maintaining their authority and it is something I like to use when it's appropriate. It also helps to stop the scenes becoming repetitious although the actual words are usually spontaneous and, I hope, they add to the scene and make it a bit more authentic.
Q3. Do you work to any kind of pre-arranged script, or, again, are the lines completely spontaneous?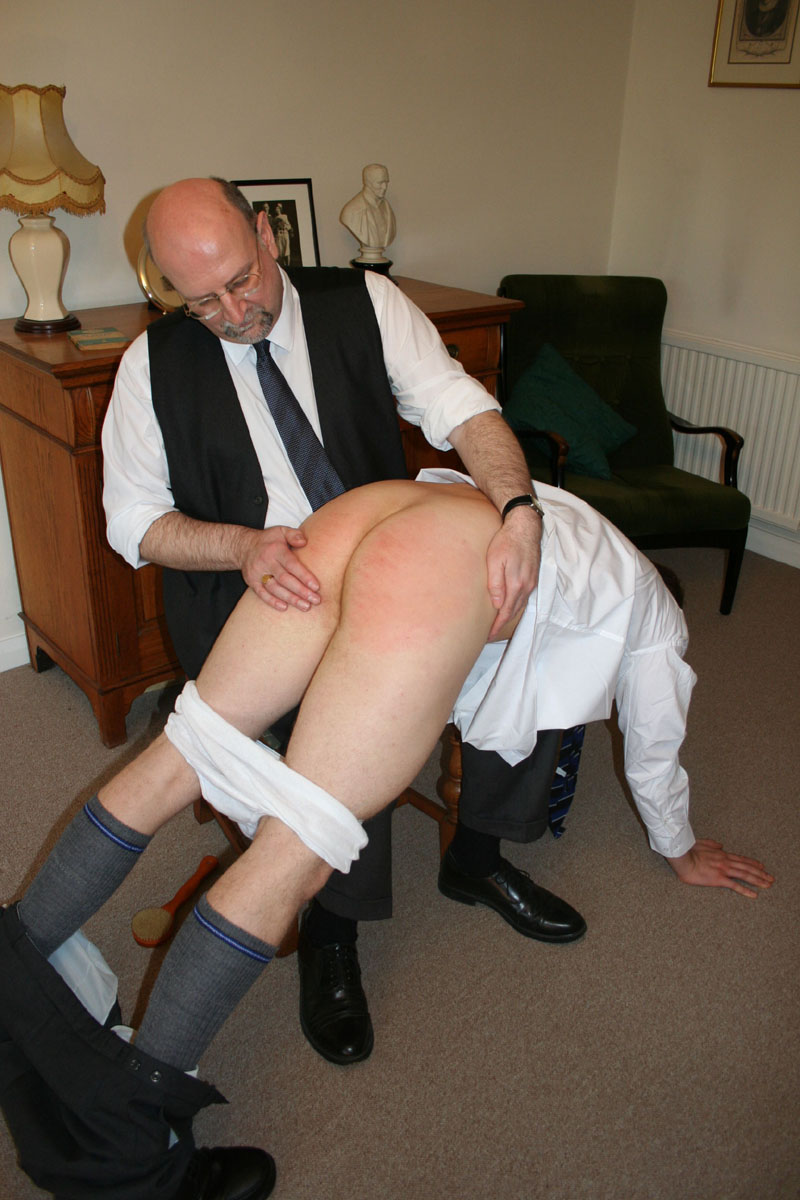 A. It's a bit of both. Although the scene will be worked out before we start filming – the setting, the reason for the punishment, the number of strokes and the implement, etc. we very rarely work from a detailed script for the dialogue. Most of the dialogue is spontaneous to begin with. The problem is that each scene is usually filmed two or three times with different angles and cameras and so there is a continuity issue that you have to use pretty much the same dialogue in each version of the scene, so one has to remember what one has said the first time round!
Q4. In the STING PICTURES film, "Tales From St. Datchet's Academy", the final scene showed you birching one of the lads. You delivered the birch as naturally as you do the cane. Which of these two implements do you prefer to administer and why?
A. The cane is the more usual implement because in the sort of scenes I've filmed with Sting it is more appropriate and authentic. The birch was used in the last scene of St. Dat's to emphasize that it was an exemplary punishment. I have no great preference for either implement. 
___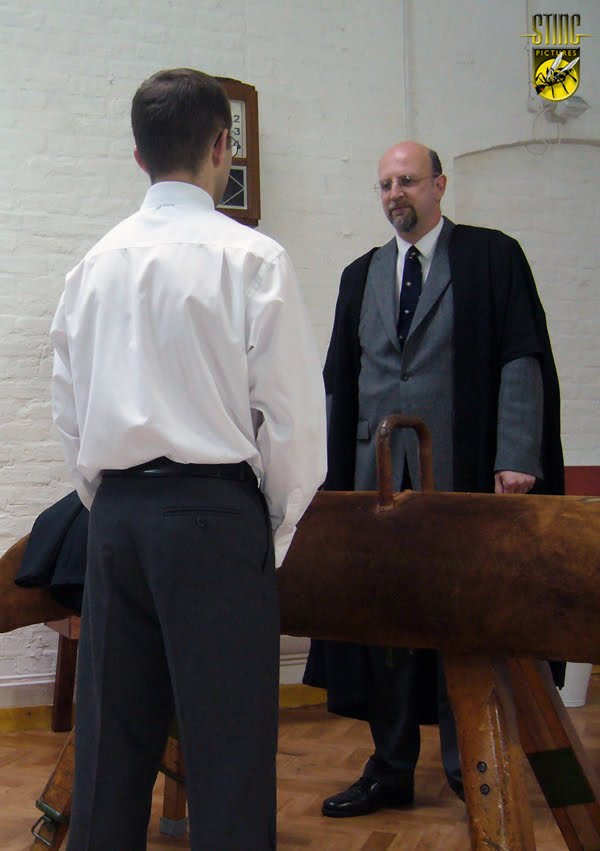 The main problem is that a birch rod is a very time consuming implement to prepare and can make a bit of a mess if the twigs break off when it's being wielded! I can see why schoolmasters went over to the cane when it became available in Europe at the end of the 18th century: it's much less time consuming!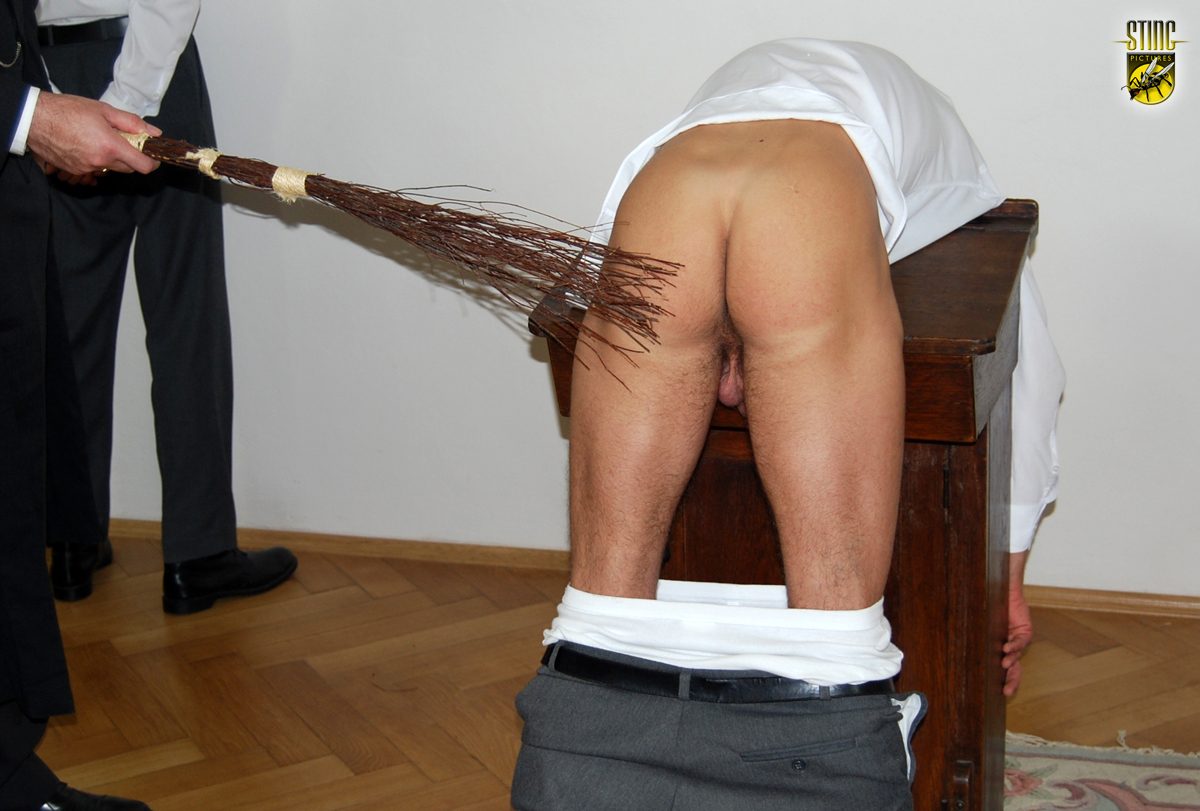 Q5. On a personal note, I've never delivered nor taken the birch, and most people would see it as a very specific form of punishment, primarily related to Public Schools of years gone by. In your experience, is the birch a common form of adult male punishment, or would you agree that it is quite specific and applied/taken by pure enthusiasts?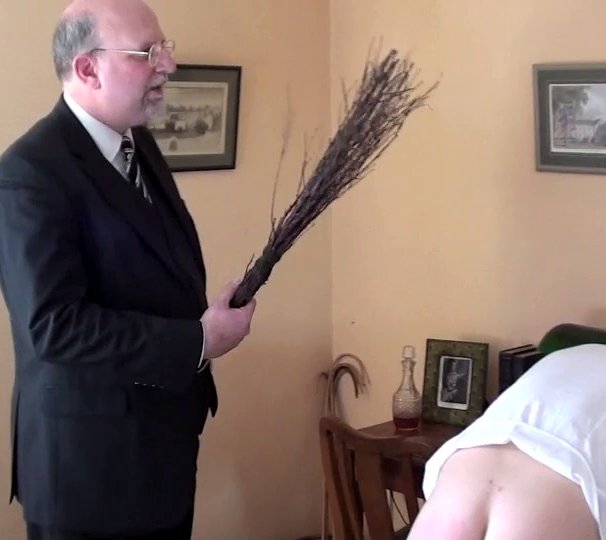 A. I think a birch rod is more of a specialist implement for the reasons I've mentioned – the amount of time it takes to get suitable rods, soak them, tie them all together into a usable and authentic implement, etc. Having said that, I've always thought the birch was an implement redolent of historic corporal punishment. 
_
My first memory of being 'turned on' by CP was aged 8 when I saw an illustration in 'Look and Learn' about 'Going to school in Tudor times', with a grim-faced schoolmaster wielding a birch. It also turns up in woodcuts and illustrations of medieval and Tudor schooling: some schools even had the birch rod on their school badge and it was seen as the schoolmaster's 'rod of office'. 
My hero – Richard Busby, Headmaster of Westminster School for many years in the 17th century – boasted in old age that a good proportion of the bishops sitting in the House of Lords suffered under his birch! He has a monument in Westminster Abbey which praises his skill as a schoolmaster, but makes no reference to his prowess with the birch!
Q6. If I'm not mistaken, we've yet to see you deliver implements such as the plimsoll, slipper, paddle or belt. Has your experience included these implements, or has your preference for the birch or cane led you to administer these implements more to date?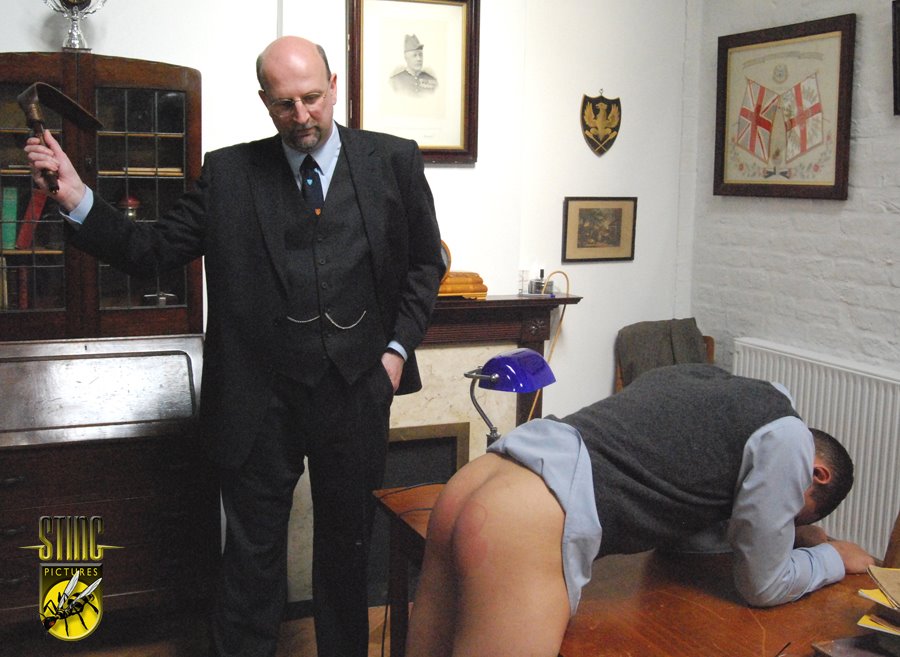 A. I did wield a strap in, "Approved Education 2", and I have been filmed dishing out a good spanking.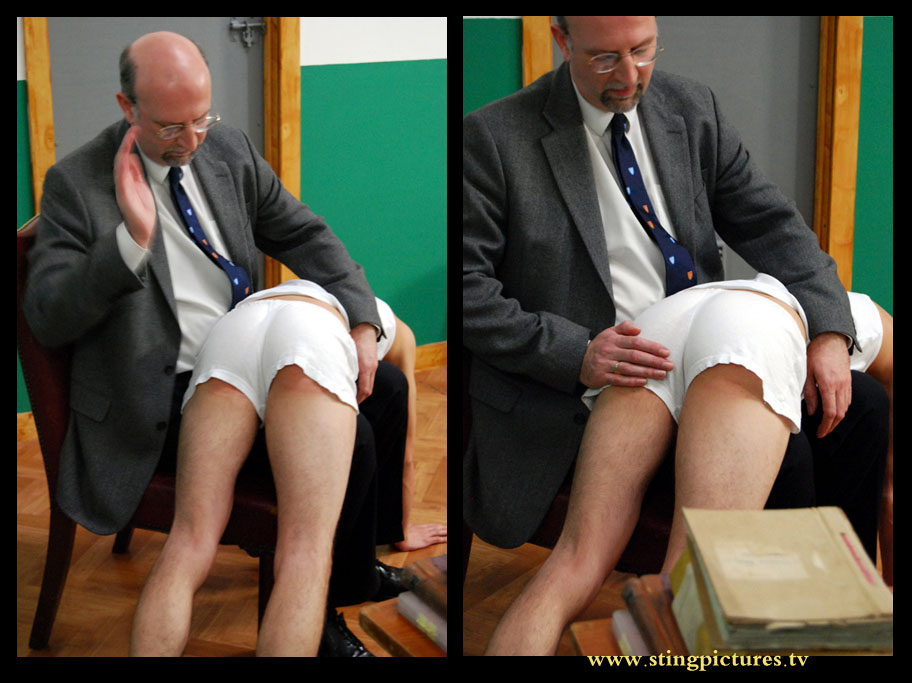 My personal preference is for over the knee spanking – it's so wonderfully simple, all you need is a chair to sit on and a bottom to spank: it's also very tactile – or the cane/birch. I've never really been that keen on the slipper or plimsoll, except if it's used over the knee to give my hand a rest! My least favourite implement is the paddle which I find a bit basic, and it can bruise if not used with care.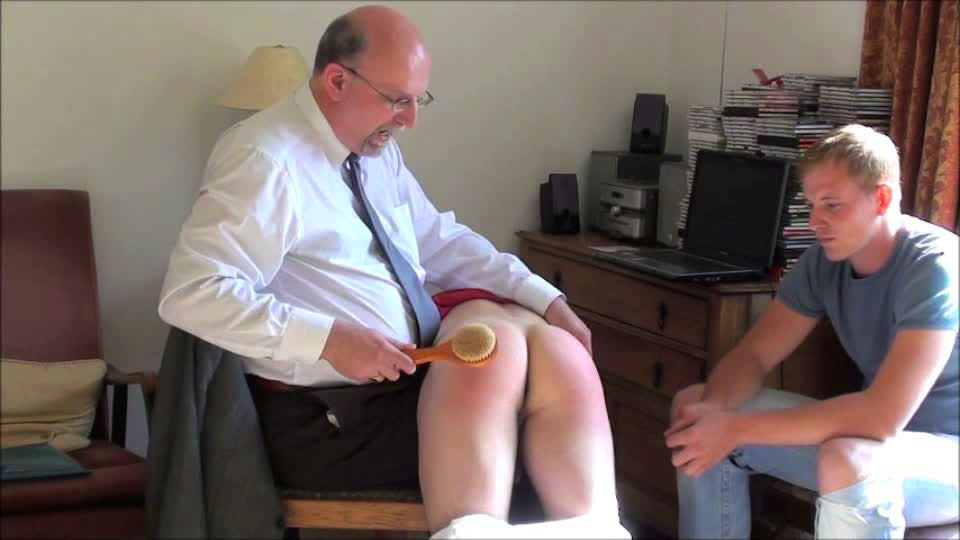 Q7. Would you consider appearing in a more domestic punishment scene, such as playing the role of a father or uncle, or do you prefer the Headmaster role above any other?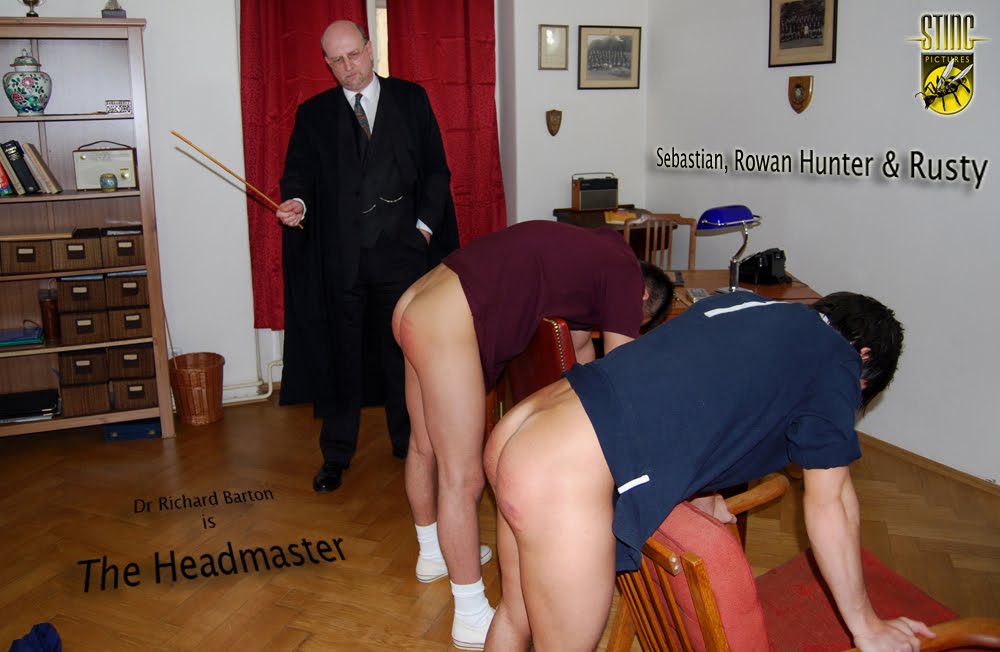 A. Richard and Rob at Sting have been kind enough to say that I look good as a Headmaster and it's a role I enjoy playing, but I'm quite happy to play a father or uncle, if the scene demands it – sort of 'This is for your own good, lad'.
Q8. Most people now remember you from your appearances in the STING PICTURES films and downloads, however, I do recall that prior to these you appeared in the CP SERVICES LONDON DVD entitled, "Domestic And School Discipline" (Vol 1). Was this your first appearance in this type of film, or, in fact, any film?
A. I did two short scenes for CP Services, one called, "Indecency In The Showers", the other called, "The Litany". They were my first efforts at filming and were great fun. "Indecency In The Showers", was not only my first CP film, it was also my first film! I was very lucky to be working with a lad called J Jay: he was great and did a lot to put me at my ease. We had a good laugh whilst filming. I think that is something which would surprise people if they could sit in on a shoot, the amount of humour and laughter that goes on between shots: all they see is me being grumpy and the boy being punished, but a lot of that is acting!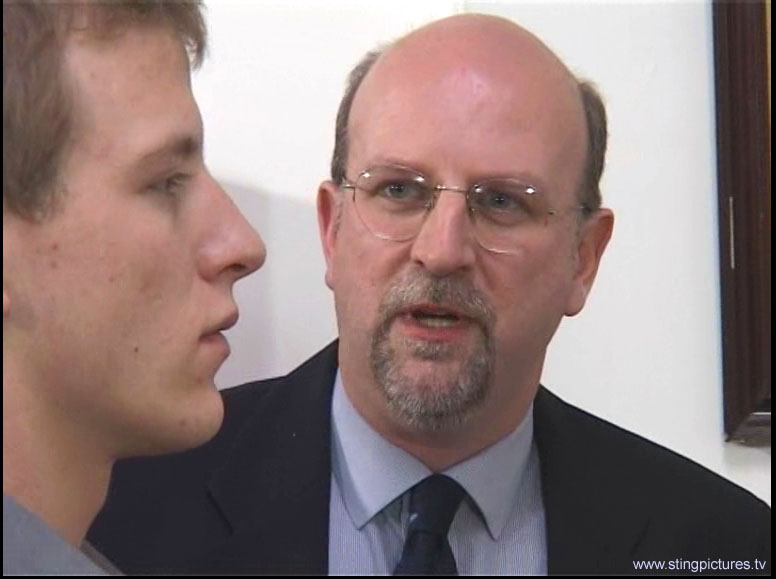 Q9. In the film named above, you told Jameson to stop dancing about and to, "Take it like a man". In the STING Download, "Approved Education 2", you told Barry, "I intend to wipe that smile off your face", and Brett (in relation to his continued running away) that, "Perhaps you could do us all a favour next time and run faster". I personally find these type of comments highly entertaining. Can you assure us that future film appearances will include a continuance of such entertaining sarcasm, if you get the chance?
A. I'm glad you like the sarcasm and I can guarantee that Mr. Andrews will continue to be the sarcastic bastard you've come to know and love!
Q10. In addition to Richard Busby, are there any other historical figures that may have influenced either your interest in the corporal punishment scene or your style of administering punishment?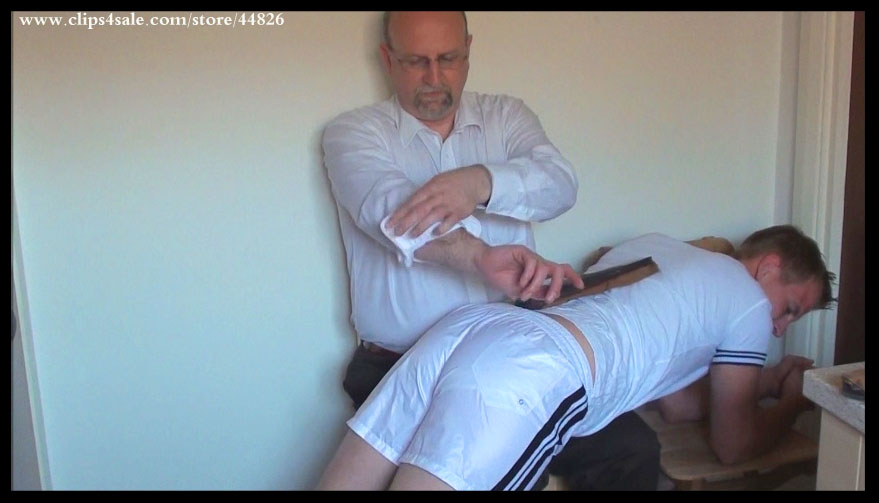 A. I think Busby is the man I most admire, perhaps because my main area of historical work is in the seventeenth century. I just find it amazing that cultural values could change so much that a man who was known as a devotee of the birch could, at the same time, be honoured as one of the great schoolmasters of his generation. 
__
Beyond that, I have a love of all that is 'retro', and love the way in which Sting films are set in a sort of post-war setting. As well as the acting, I've enjoyed recreating the sets and getting props together that will give something of the feel of, say, a school of the 1940's and 50's. It's very nice to watch the end results on DVD and to be pleased with the set as well as the action. I've often thought that I was born in the wrong time and missed my vocation!
Q11. Do you have a particular favourite amongst the STING lads that you may have enjoyed punishing more than others?
A. That's a difficult one, because I have enormous respect for all the lads who submit to hard and authentic whackings. I suppose I have to mention Lee, who was the lad I birched at the end of St. Dat's. He really had not taken much CP before and he was thrown in at the deep end with a birching from me, but he was great and took it like a man! His boyfriend Nick, who had come along for the ride, was also persuaded to don a school uniform and take part and the chemistry between Lee and Nick adds so much to that scene. 
____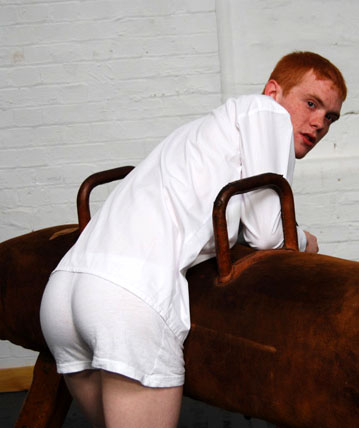 The other lad I must mention is Ginge, who gets a good spanking and the cane
from me in the download, "Sticks And Stones". Again, he was fairly new to it all when he encountered me, but took it well. I must confess to having a bit of a 'thing' for ginger hair and Ginge was very cute!
Q12. The collaboration between yourself and STING/CP SERVICES has proven very entertaining and enjoyable from my own personal point of view, and, no doubt, many others who have watched the films/Downloads. Is there any particular scene that sticks out in your own memory more than any other?
A. I think it would have to be the final scene of St. Dat's with Lee and Nick. Without wishing to boast, I think it makes a great finale to the film. It was also the first time I realised how long it takes to film a scene, as it took about 5 hours to film what ends up as a 10-15 minute scene.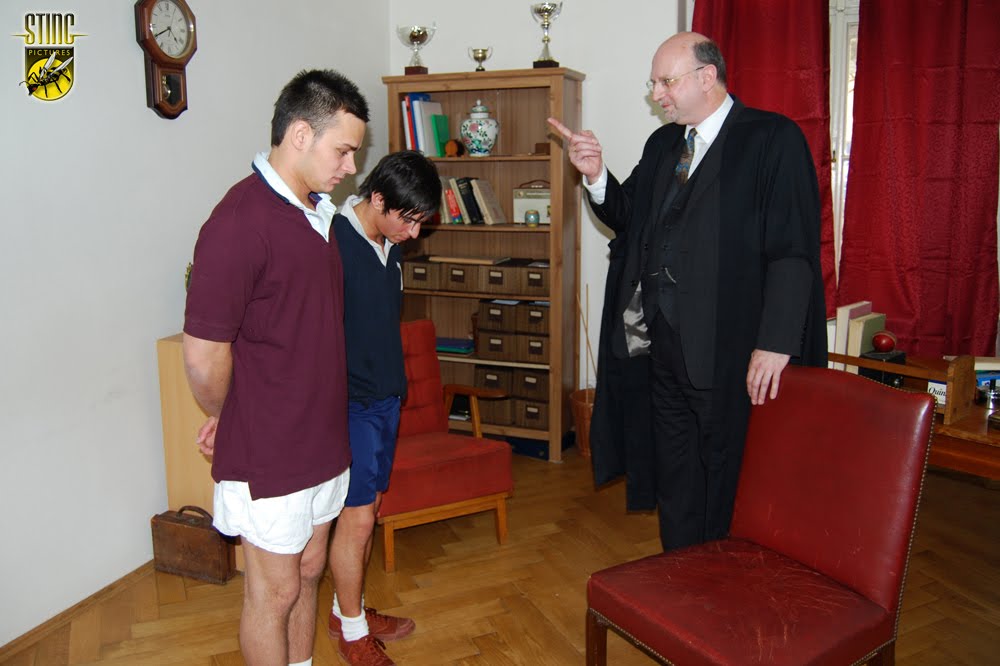 Q13. Finally, can we hope to see more appearances from Mr. Andrews in the future?
A. I very much hope so. There is talk of a sequel to St. Dat's and I believe there may be a possibility that the new Headmaster of St. Datchet's might be a certain Dr Barton, formerly Housemaster at Debden Hall School and a strict disciplinarian…watch this space!
TD Monthly EDITOR'S NOTE

My sincere thanks to Mr. Andrews, as well as Rich from STING and Keith and Si from CP SERVICES LONDON, for taking part in, "The 39 Steps". I had the original idea for a series of interviews with leading figures of the CP world more than 2 months ago. The project has involved a good deal of work, not least of which was tailoring the particular questions to suit the participants concerned. All the above individuals who kindly agreed to take part are busy people, and I very much appreciate the time and effort involved to answer my questions. I hope that readers enjoyed this one-off special – "The 39 Steps!"

Phil Jones (Editor & Founder: TDM): January 2009
 _____________________________________________