The popular Spanking artist Copper continues his entertaining journey through the History of Male on Male Spanking videos
A SHORT HISTORY OF MALE SPANKING VIDEOS
SUNDAZE FILMS
In the late 1980's, SUNDAZE PRODUCTIONS made a short-lived appearance on the male spanking scene. Based in Palm Springs, California, a local dentist, Gary Scott (not his real name), began filming his regular spanking sessions for his own pleasure. These videos were shot using models, most of whom were male-prostitutes that he picked up in locally or in Hollywood. After seeing the success of production companies like Studio-7 and Man's Hand Films, Scott decided to offer his videos for sale on VHS cassettes. The "Sundaze" logo seen at the beginning of each video was actually the sign on the wall of an apartment building that he owned, and most of the sessions were shot there. Scott sold the videos for $39.95, about half the price of his competitors. Gary would often communicate with his mail-order customers, offering to customize cassettes for them, combining specific videos or models.

With a very few exceptions, Gary was the spanker in all of his videos and kept his face off camera. The first video offerings ("Butt Whipping 1&2") were compilations of short segments with mostly faceless young men being whipped with a belt. After that, he began creating simple plotlines that could be shot in a living room or bedroom. In addition to the spanking videos, Sundaze Films also released five "Solo Sex" videos with the models masturbating (often after being spanked).

Since most of his "models" were hustlers, he would frequently ply them with alcohol or narcotics, and it often showed in their slow and garbled reactions to the severe beatings that they endured. It was rumored that one of his competitors threatened to notify law enforcement of the possibility that he was employing under-age models after drugging them, which could have resulted in the loss of his state license, in addition to all of the legal ramifications. Whether that was the reason or not, less than two years after the introduction of Sundaze Films, the company suddenly stopped all production and no longer offered their videos for sale.

Over those two years, Sundaze Films offered a total of twenty videos, featuring over fifty models being spanked. The tapes have not been available since the early 90's, although rare copies sometimes surface. The one exception is on PornHub, where one Sundaze video (titled "Andy Spanked to Tears") has been misidentified as a Studio-7 product.
One interesting side-note: The apartment building with the "Suzdaze" sign that was used for the opening credits of his videos still exists and can be found at 621 S. Riverside Dr. in Palm Springs, 92264.

Attached are a few of the original photo-copied flyers for Sundaze Videos that were sent to his regular customers (note his hand-written note on the second page). There was never an actual catalog or any published advertising for the Sundaze Films.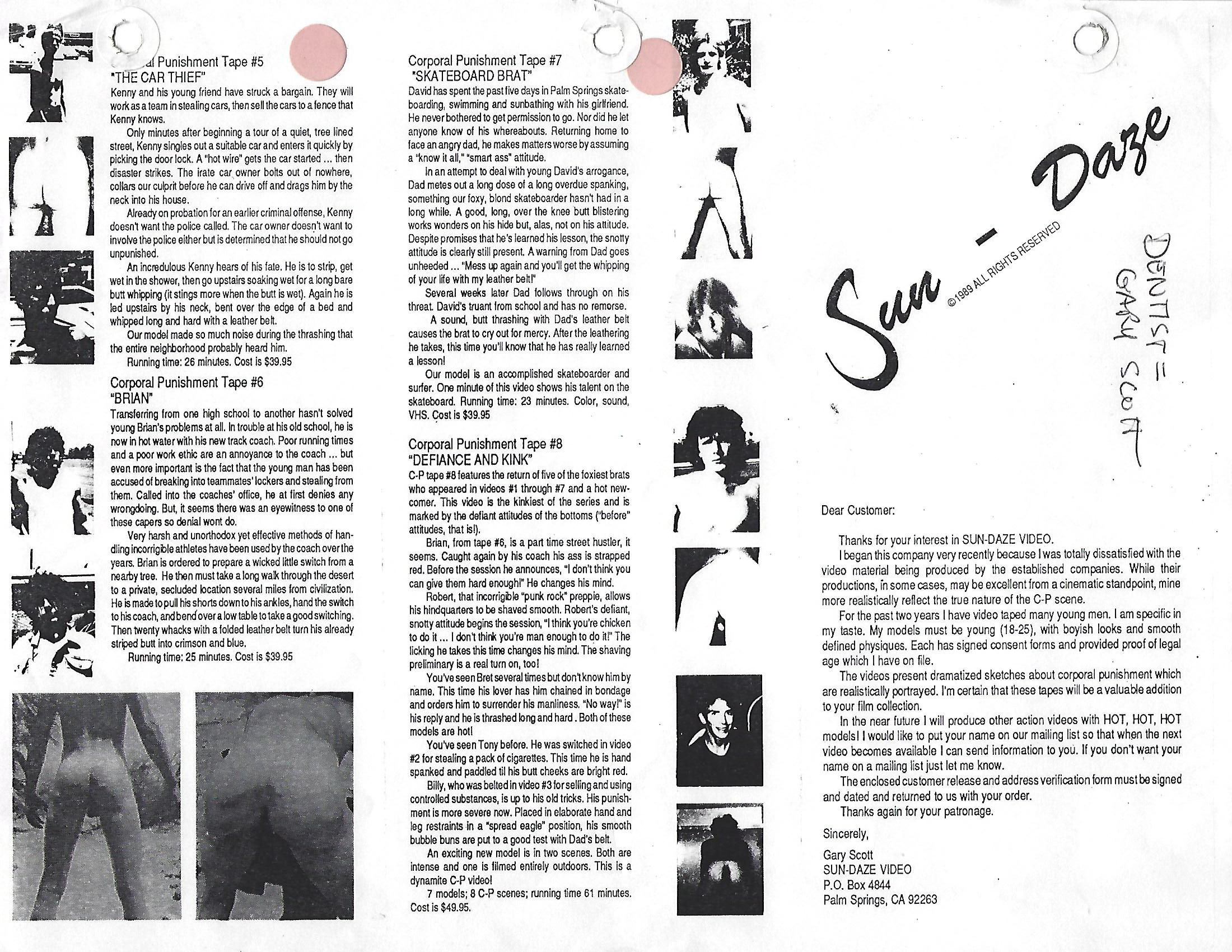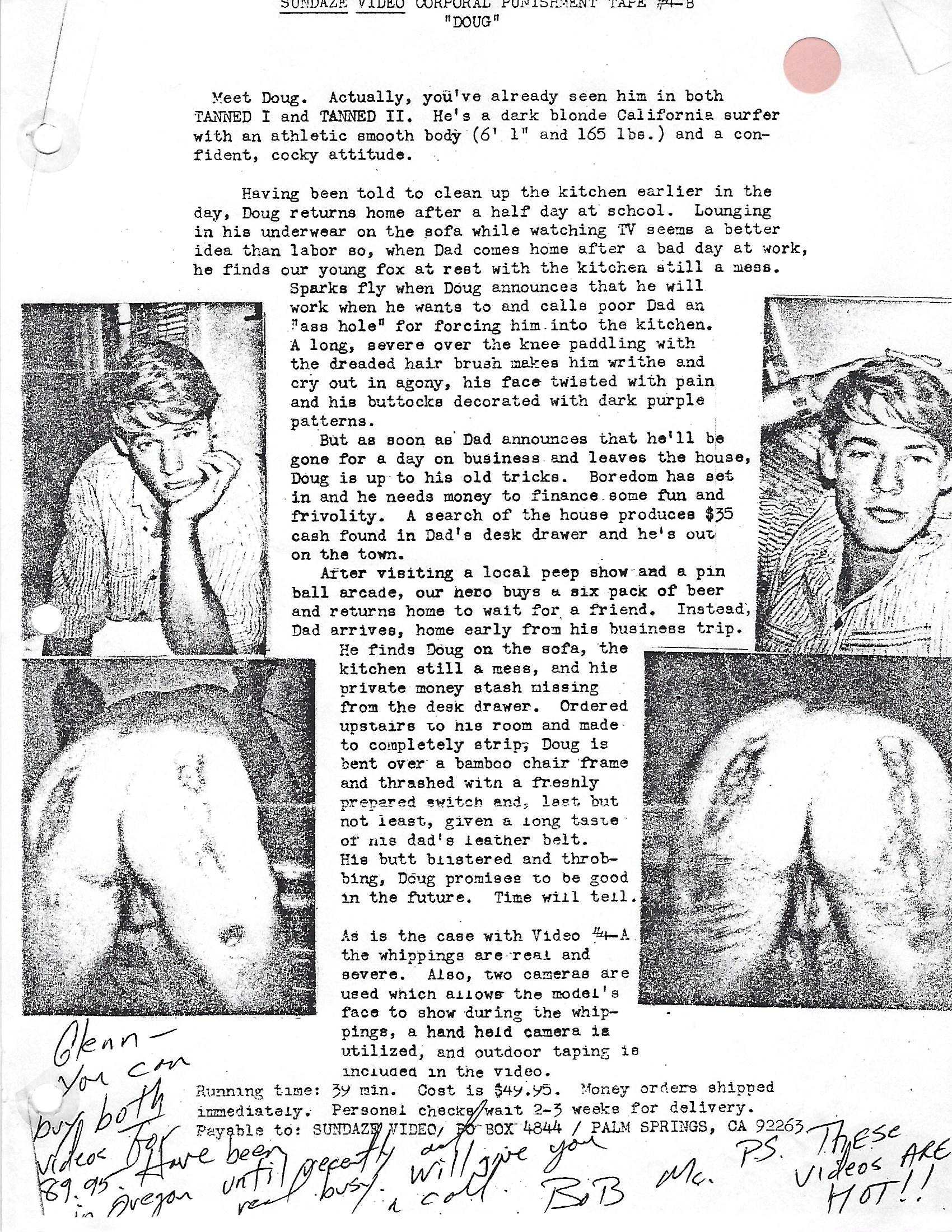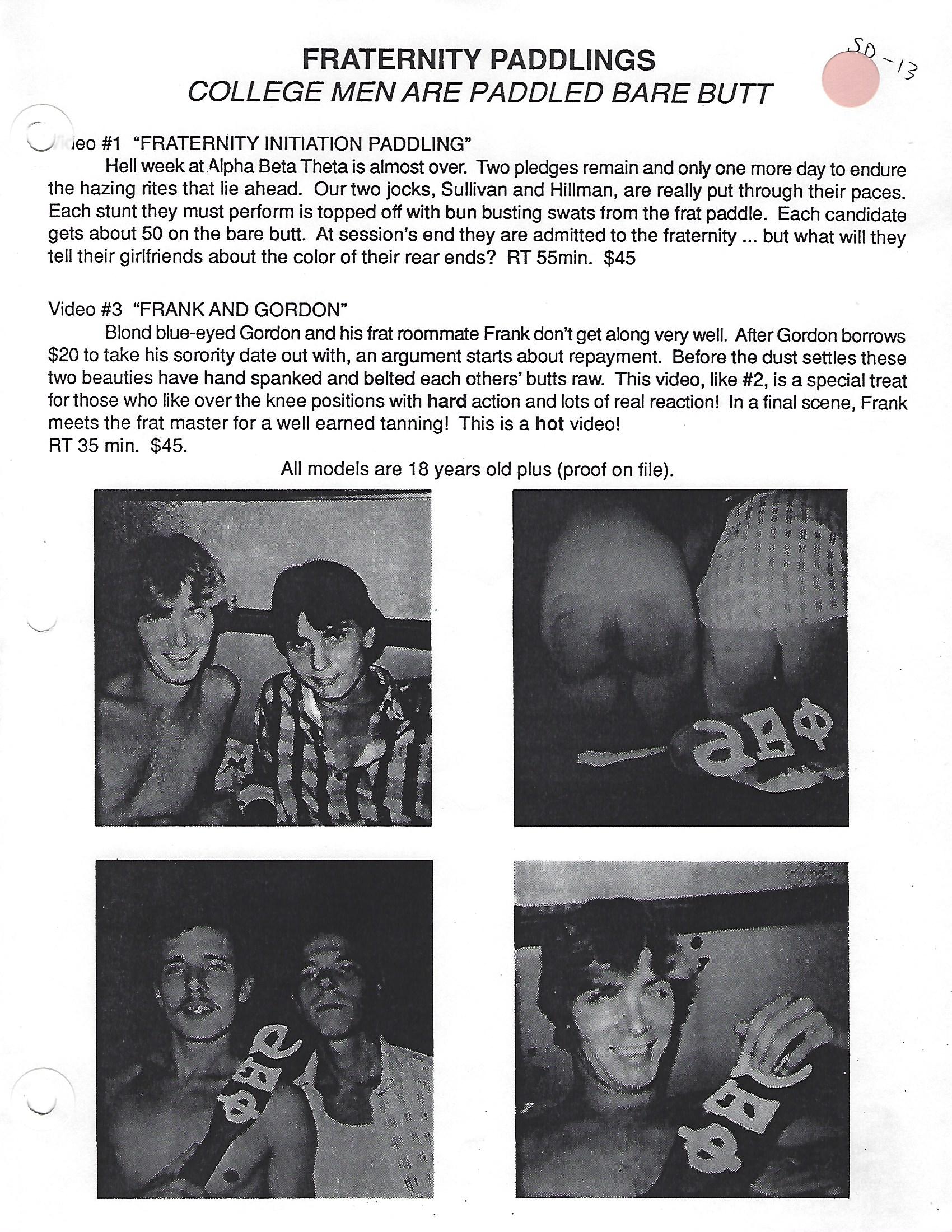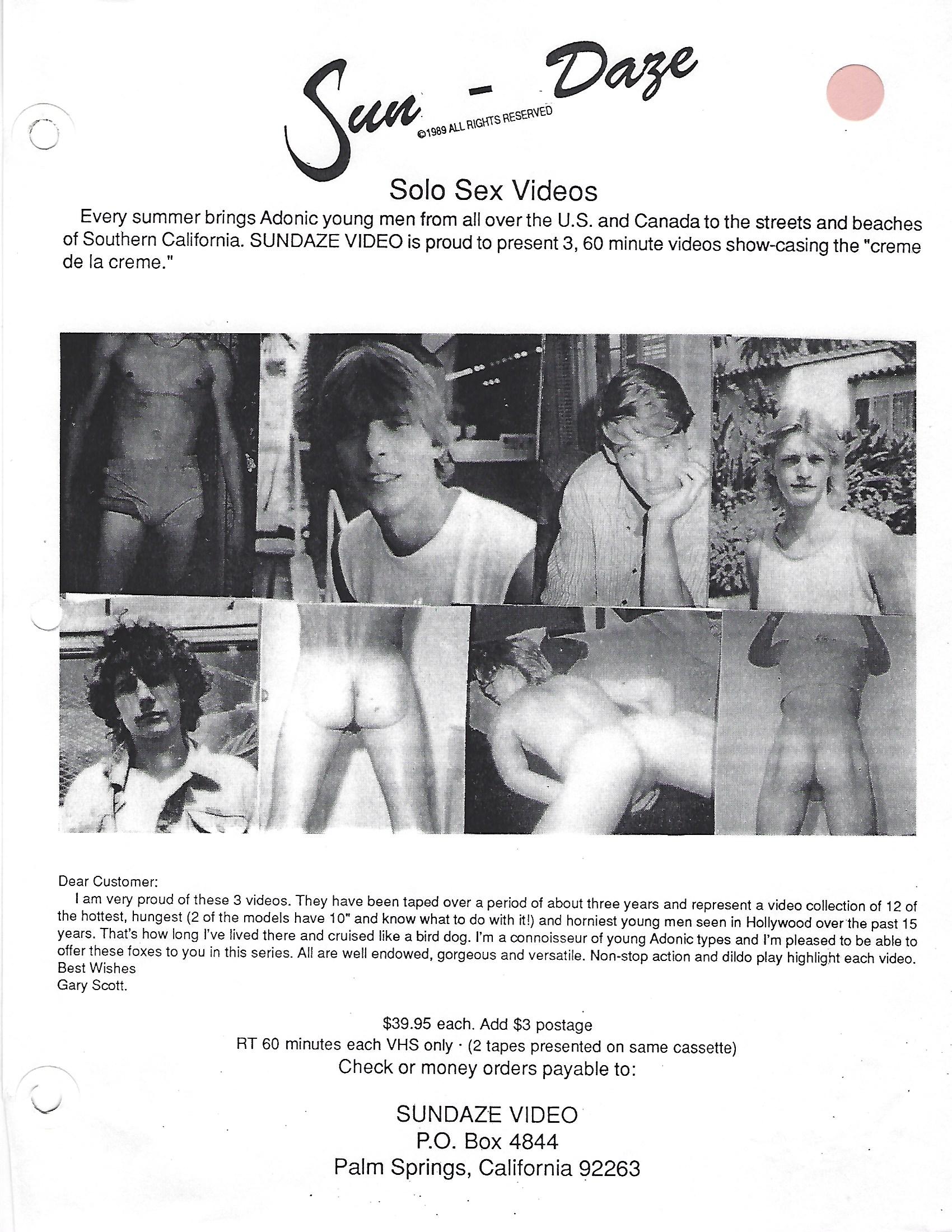 Click HERE to view earlier instalments