The artist Copper continues with his exploration of the History of male on male Spanking videos with a second look at Studio 7 and one of its most controversial characters.
*****

OK, class. I am glad to hear that a number of readers are enjoying our History Lessons. If any of of you remember Studio-7 videos, you will certainly recall Mike Pastori, one of their frequent models. Whether you liked him or hated him, he certainly made a mark on the spanking-video industry (as well as many-a-bottom) so here is a SPECIAL EXTRA CREDIT ASSIGNMENT to share a bit of his personal history.
A SHORT HISTORY OF MALE SPANKING VIDEOS

STUDIO-7 – Part 2
MIKE PASTORI
At the height of their success in the mid-1990's, Studio-7 introduced a new actor by the name of MIKE PASTORI (real name Thomas John Mitchell) who created a sensation with his extremely assertive demeanor and severe spanking technique that often resulted with tears and sobbing. His first video for the company was "You Spanked the President's Son" (SV-41) and he soon became the resident sadist for Studio-7.
Over the next few years, Mike Pastori would go on to appear in 43 videos for Studio-7, including offerings like "Counselor Training" (SV-65) where he mentors a new employee in how to discipline by first spanking him, and then having him demonstrate what he just learned on a subordinate; "Cry Baby Cry" (SV-66) where a father repeatedly reduces his son to tears; and "The Interview with Peter Stone" (SV-80) featuring a strapping new lad who went on to appear in a half-dozen videos for the studio.
While still working for Studio-7, Mike Pastori founded his own company, MANic Productions, that allegedly included a working dungeon and offered male slaves for rent. Two of those "slaves" escaped and filed criminal complaints against Pastori that included kidnapping and slavery, claiming that they had not consented to his abuse. On November 27, 1996, Pastori's dungeon was raided by the San Diego Police Department. Pastori was eventually charged with pimping and pandering, and with so much print and video evidence against him, Pastori plea-bargained the allegations down to "attempted pandering" and wound up serving two years in a California state prison.
In addition to his incarceration, Pastori was ordered to cease any involvement with the adult entertainment industry, and upon his release, he discovered that all of his computers and files had been confiscated by the court. Having lost all of his records and mailing lists and after a lifetime of being "in charge," the prison term and loss of his livelihood weighed heavily on him and he died of a heart attack.
After Mike's passing, Studio-7 offered a "Final Tribute" for his fans, by discounting his videos for a period of time. I am attaching a copy of that flyer, although you might notice that whoever typed it repeatedly misspelled his name "Pastoria". Additionally I'm including several of the original catalog pages from his films, including his first video (please note that in the description, "Mike" is referring to a character's name and not Pastori), as well as the first Peter Stone video, and one of his severe videos, "How to Break a Slave" that Studio-7 wasn't even sure could be legally released.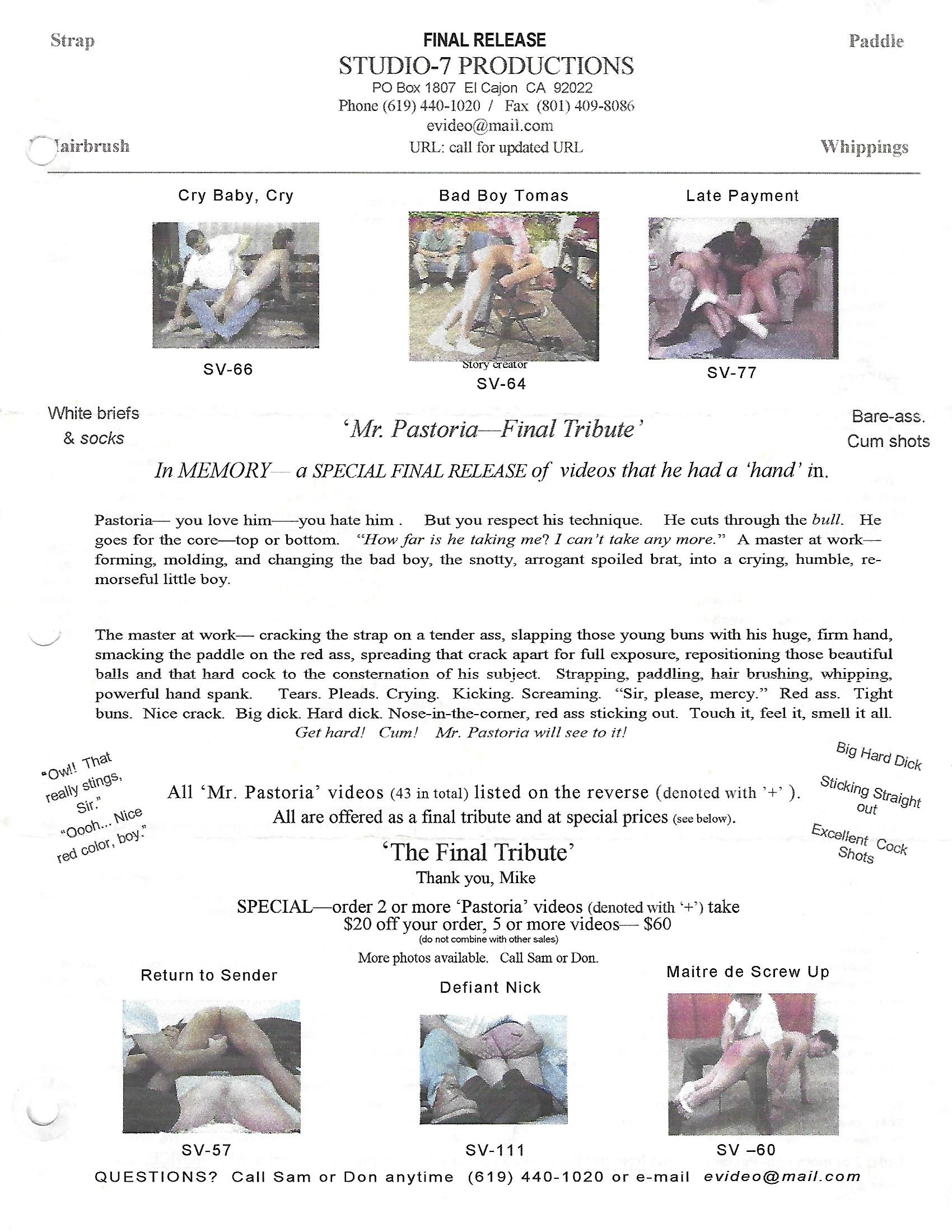 *
Click Here or on the Continue Reading tab below to see more.
*
______________________
Continue reading → Post ID 23405