The US Spanking artist Copper continues to inform and entertain us with his vast knowledge of the history of Male Spanking films
A SHORT HISTORY OF MALE SPANKING VIDEOS – SANTA BARBARA PADDLE COMPANY
Claiming to be the first male-spanking business on the internet, the SANTA BARBARA PADDLE CO. was a very unique company. It began as a literal paddle company that sold a variety of wooden paddles specifically for erotic encounters. Founded by Rick Matthews (not his real name) in 1994, SBPC's parent company was known as The Patriot Group (or TPG) and was responsible for financing the on-line site.
Part of Matthews' original goal was to connect spankers and spankees, and in 1995 he created the "Smack Roster," an international directory of guys who were into corporal punishment. Subscriptions were $30 per year and included a personal ad with a photograph. The roster was going to be updated quarterly, but unfortunately it never got off the ground.
Matthews' next attempt to connect C. P. fans was through the creation of an on-line fraternity that he named Chi-Delta-Theta. Here, guys that were into paddling could connect with other guys in their region to undergo a series of prescribed "ordeals." Successfully accomplishing the ordeals would result in "Brotherhood" status and would then allow them to initiate others into the fraternity. While there was some initial success, most tops refused to submit to the ordeals and this plan also fizzled out.

Beginning in the mid-1990's, Santa Barbara Paddle Co. finally found their niche as an on-line distributor for all of the major producers of male-spanking videos. For $29.95 to $59.95, the company sold VHS copies of spanking films from Bacchus, Brick House, Control-T, Event, Filmco, Man's Hand, Paradox Pictures and Studio-7. They also offered a small selection of non-spanking videos that featured fetishes such as bondage and wrestling.

In 1997, Santa Barbara Paddle Co. released their first original video, "The Misadventures of Rusty." Conceived and directed by Randy King, this video was originally to be produced and financed by Man's Hand Films, but when disagreements about the film's direction and the fact that at least one model failed to provide the required legal identification, Man's Hand decided not to release it. King then offered it to S.B.P.C., who sold it at the premium price of $69.95 and the film turned out to be a success for them.
Around 2001, Rick Matthews relocated to San Diego, but retained the Santa Barbara name. He also decided that he would try his hand at video production and turned out a handful of somewhat dreadful spanking films, almost always with himself as the top and Bill Alexander as the beefy bottom. The initial videos were of such poor quality that they were marketed as "Rick and Bill's Home Videos." To the best of my knowledge, S.B.P.C. produced seven of these original videos.
In 2004, the owners of TropiXXX Videos, Marty Graw and Alex Colton, visited S.B.P.C. while exploring a move to the west coast from their home in Colorado. While in San Diego, they joined Matthews in his dungeon to film several scenarios with Rick paddling Alex, but these were later released by TropiXXX and not Santa Barbara.

Since that time, the company has simply disappeared. A search for Santa Barbara Paddle Company. resulted in lots of recreational sporting sites for canoeing and surfing, but none of their original videos. The only video products I was able to locate were the ones that were released by TropiXXX.

I am including a couple of S.B.P.C.'s earliest catalog covers, as well as a (rather boring) page of their video listings. There is also a flyer for a spanking party that they co-hosted following the 1999 Folsom Street Fair in San Francisco and the flyer from the release of their "Misadventures of Rusty" video. Finally, I am attaching six behind-the-scenes photographs that were taken during the making of their "Rusty" video and have never been published before.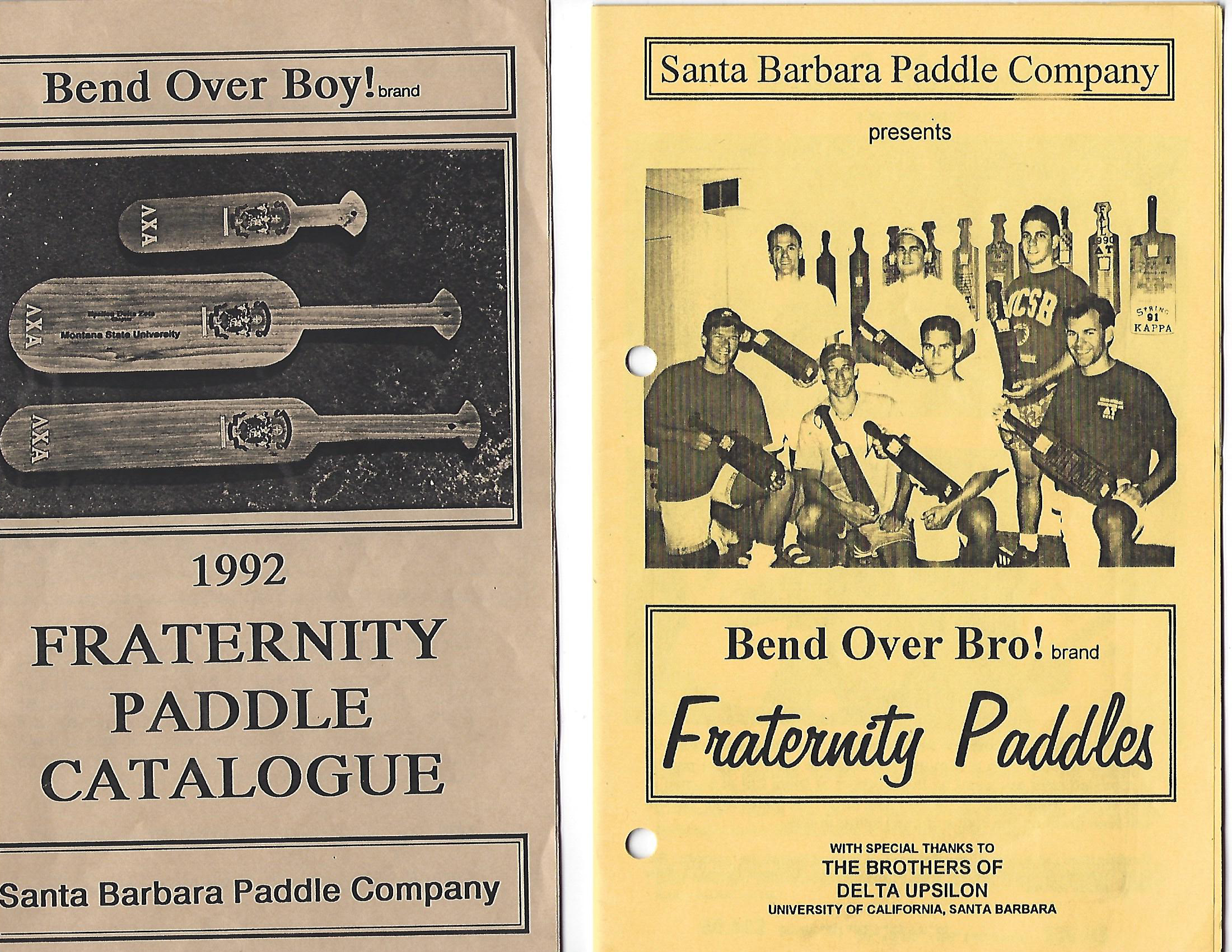 *
Click Here or on the Continue Reading tab below to see more.
*
______________________
Continue reading → Post ID 24295