Enjoy the final part of Copper's fascinating series on the male on male spanking films
A SHORT HISTORY OF MALE SPANKING VIDEOS
VARIOUS VIDEOS
PART TWO

Picking up where we left off…

WOOD SHED PRODUCTIONS
Originally called KATSAM PRODUCTIONS, this provider of fetish films created a library of over 40 videos with a variety of fetishes that included bondage, watersports, body shaving and occasional spankings like "Beat Me, Daddy" and "The Spanking". Although they were based in New York City, they had a series of punishment videos that were shot in Southern California and starred "Sonny Boy Jacobson". These began with "Self-Abuse" (1988) that had Sonny slapping his own butt with a variety of tools. Based on its success, they then released "Self-Abuse 2 & 3", which led to another series of five videos called "Mo Abuse" in which older men would take turns spanking, paddling and strapping Sonny in a number of positions. As part of the fifth video, shot in 1994, Sonny was introduced to one of the earliest versions of a spanking machine – a pneumatically driven cane that would strike his ass as he was lying on a massage table. The videos originally sold for $59.95 on VHS, but haven't been available for many years. I will include a half-page ad for their videos from a leather magazine.
*
Click Here or on the Continue Reading tab below to see more.
*
______________________
MOUNTAIN MAN VIDEOS
Rob Ross (not his real name) was a bartender at a hole-in-the-wall bar on Kearny Street in downtown San Francisco. He was also a regular guest at the monthly all-male spanking parties that were started by Man's Hand Films in 1997. Rob loved spanking and in 1998 he started a short lived but prolific video production company called MOUNTAIN MAN FILMS. The films were only available on VHS cassette tapes and sold for $20 each – including postage.
Over the next four years. Mountain Man released sixteen videos. In alphabetical order, they were: "The Babysitter", "Bad Daddy", "Brothers Three", "The Cowboy and the Cop", "Daddy, Inc.", "The Hit Man", "Hustler Spank", "ManSpank", "Mr. Clean", "No, Daddy, No", "Not Again, Daddy", "NYPD Red", "Office Bully", "Outdoor Spank", "Santa Spank" and "Shave Spank". After producing his final video in 2004, Rob Ross relocated to Las Vegas and continued selling his videos on-line until the U.S. government changed the regulations regarding record-keeping, and Rob decided to relinquish his copyright and he allowed his videos to posted for free on the internet. Mountain Man Films was distributed purely by word-of-mouth, especially using the relatively new world-wide-web, so there never were any printed catalogs or flyers and very little remains, other than the original videos. I am attaching one photo I found from their "Santa Spank" video.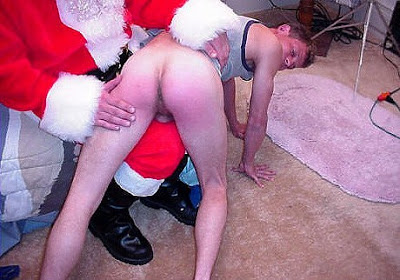 WILLIAM HIGGINS
Starting as a gay-vanilla adult film producer/director in Southern California, WILLIAM HIGGINS founded Catalina Productions that made memorable classics like "The Boys of Venice" (1970), "Pacific Coast Highway" (1981), and "Sailor in the Wild" (1983).

Keep in mind, this is from the time when customers still drove to their local X-rated theater to view adult films, or had to settle for printed magazines sent through the mail. For those of us who were into spanking back then, we were thrilled to discover that William Higgins occasionally included spanking scenes in his movies – albeit short and inevitably interrupted by sex – but nonetheless, genuine over-the-knee, bare ass spanking scenes. Good examples of these were "The Best Little Warehouse in L.A.", "Malibu Days and Big Bear Nights," and "Young Cadets". (see the attached pics).
In 1996, Higgins relocated his studio to Prague in the Czech Republic where his business flourished and his handsome, hunky models often found themselves over the knee of a mad monk or each other. Based on the popularity of the discipline scenes in his videos, Higgins eventually created the website "Str8Hell," specializing in films of handsome men being manhandled. While Higgins never really created an all-spanking production company, he certainly was a pioneer in the earliest days of filmed male-spanking. William Higgins passed away in 2019.

William Higgins' inclusion of spanking scenes in his movies inspired other production companies like Trademark to do the same, with short spankings in films like "The Summer of Marc Noll" and others. I am attaching a photos from a couple of these videos.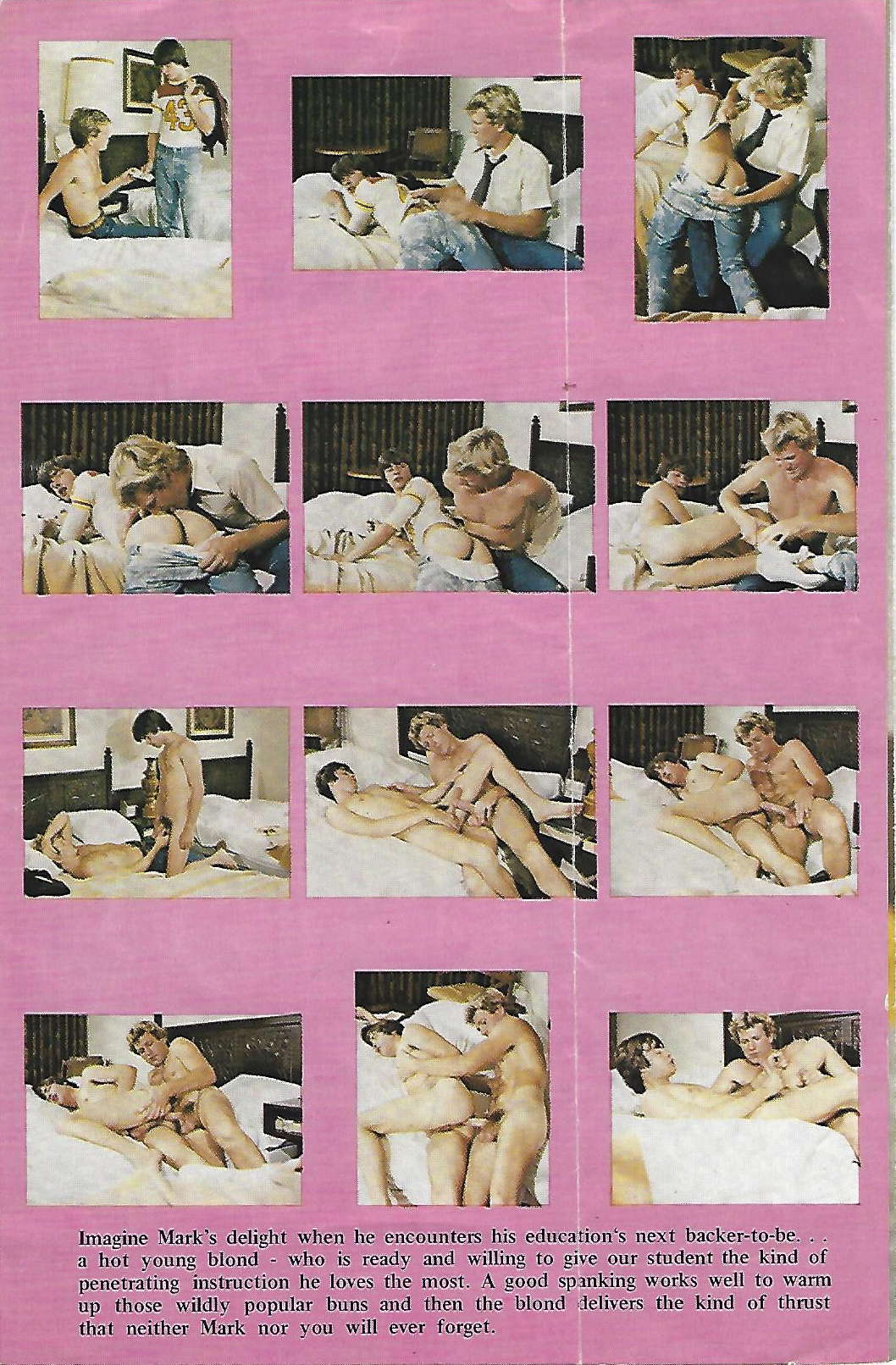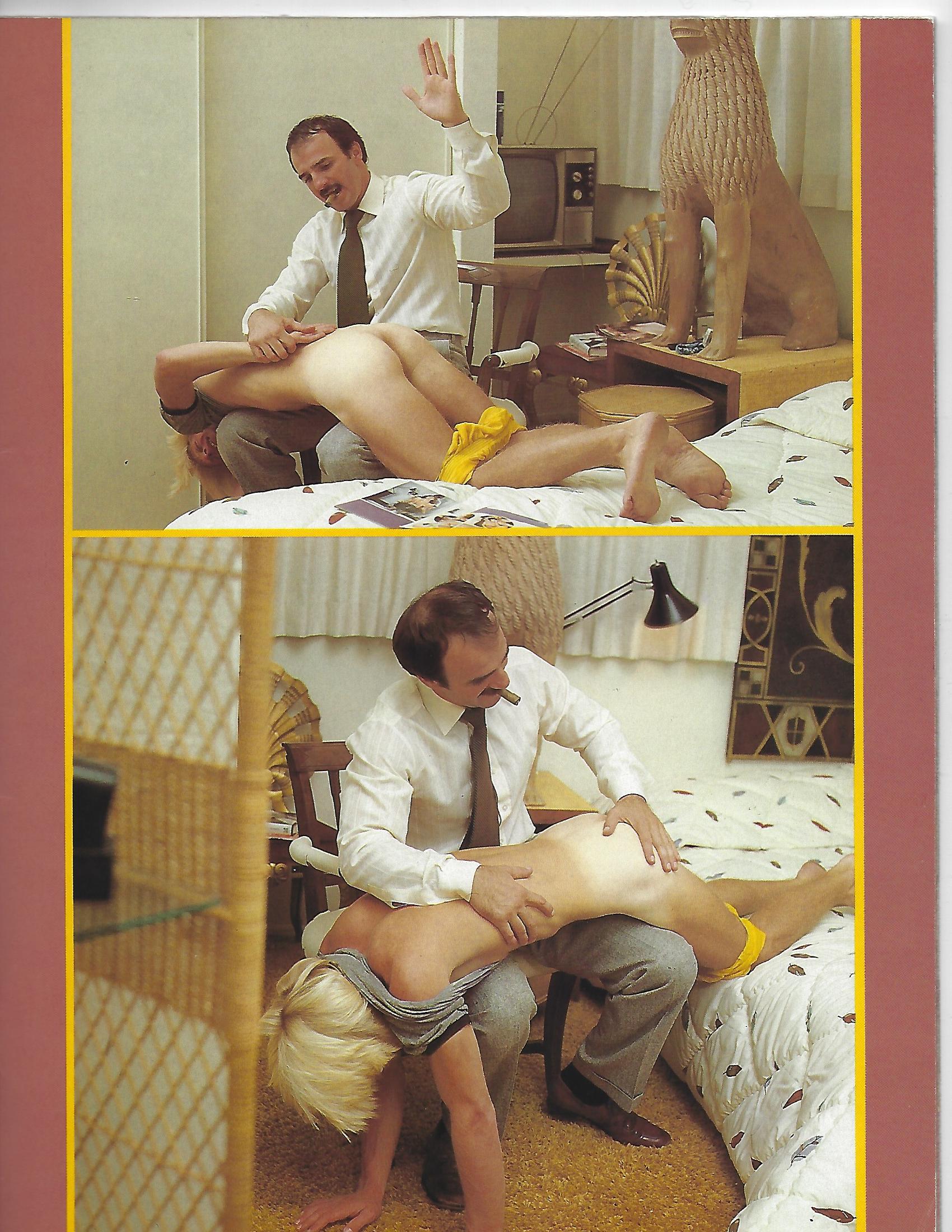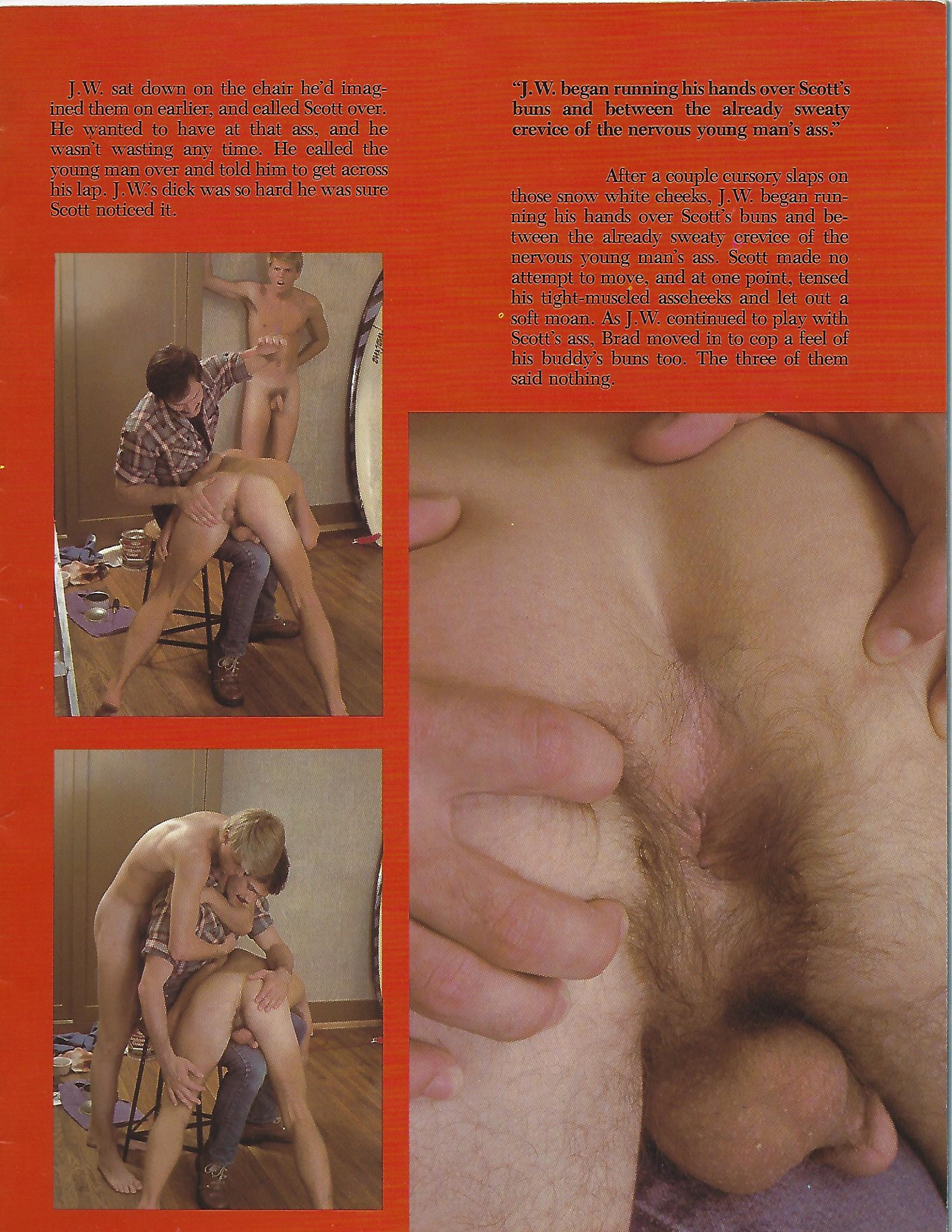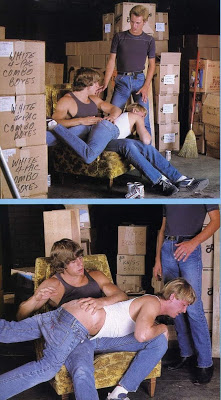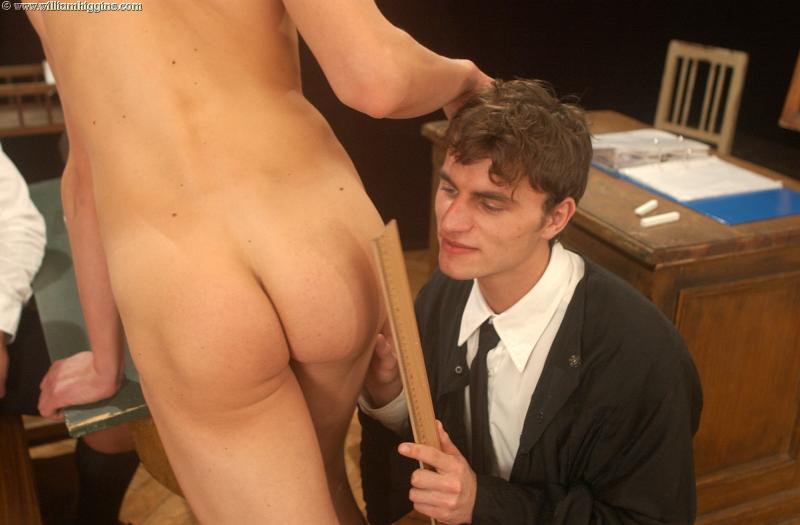 Finally some more recent William Higgins spanking images from the WilliamHiggins.com websites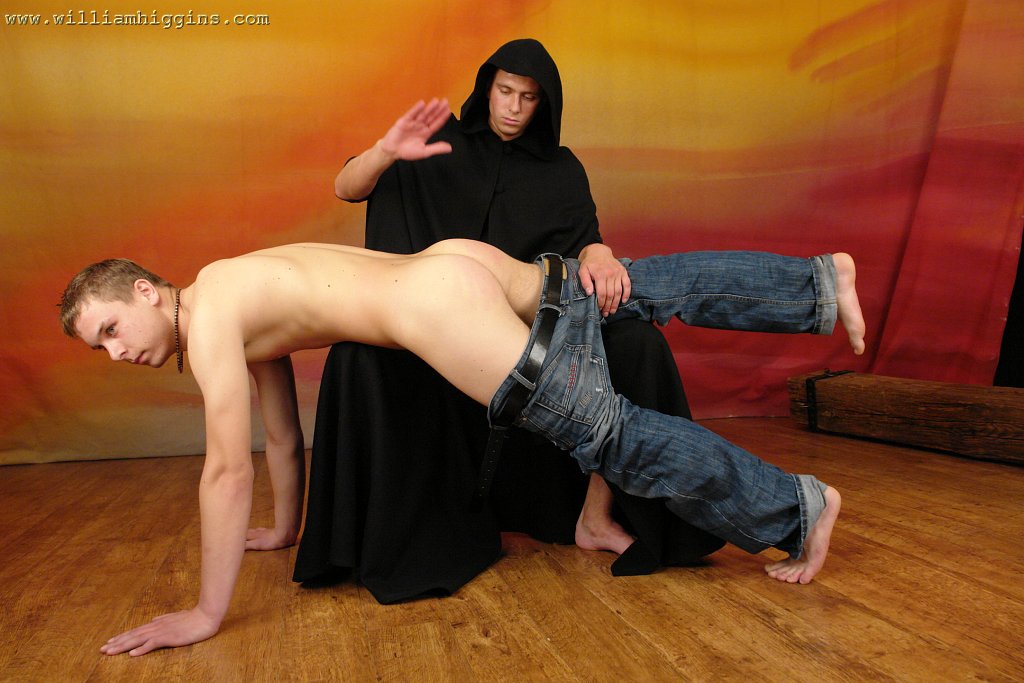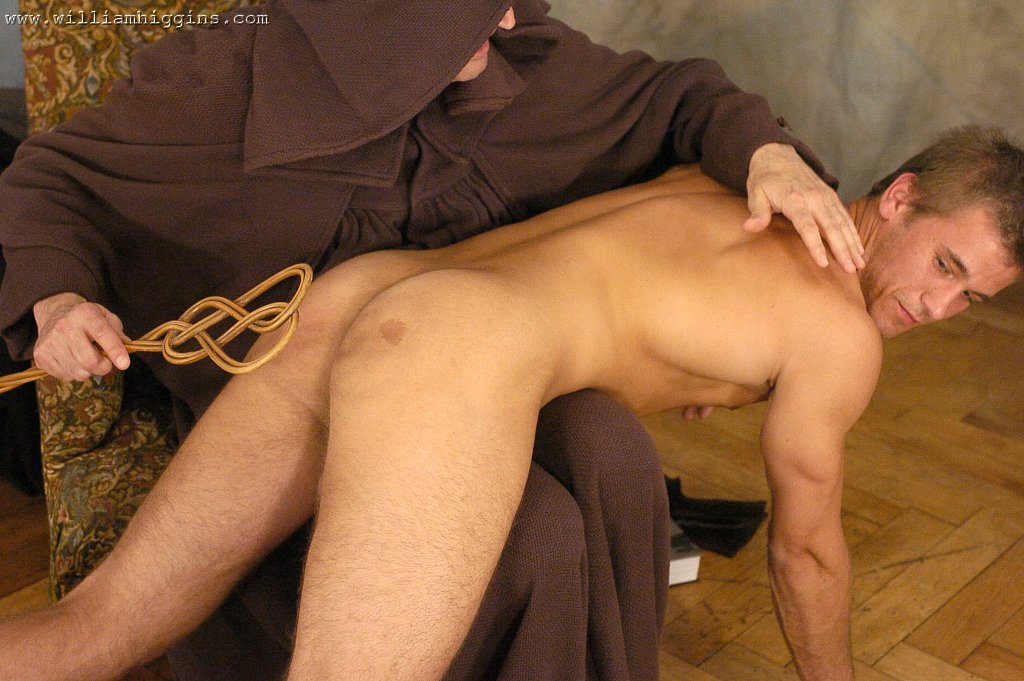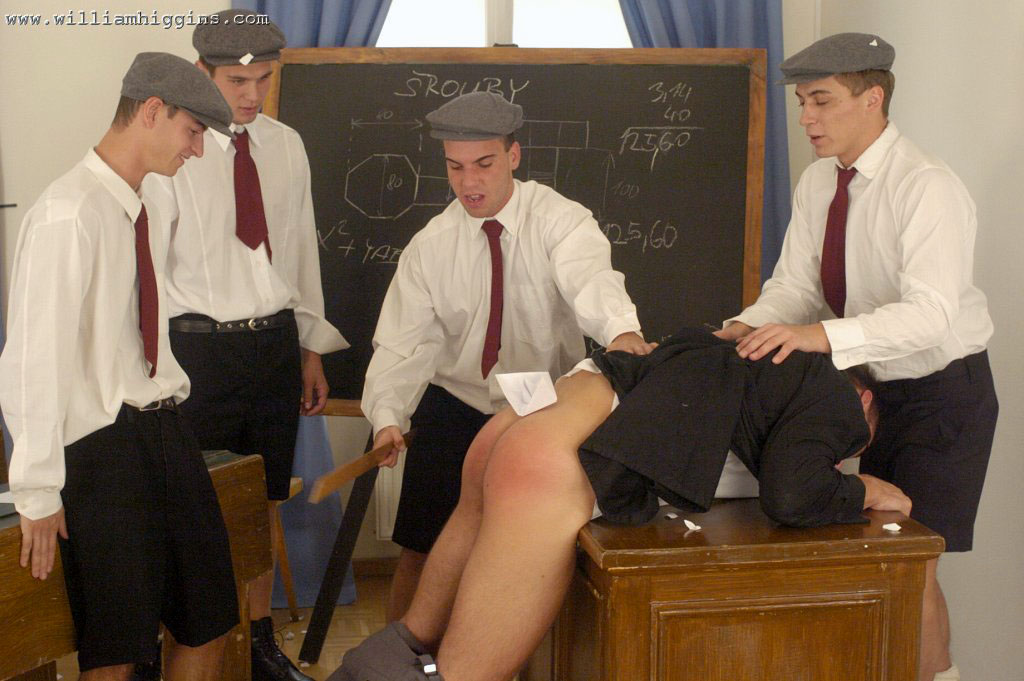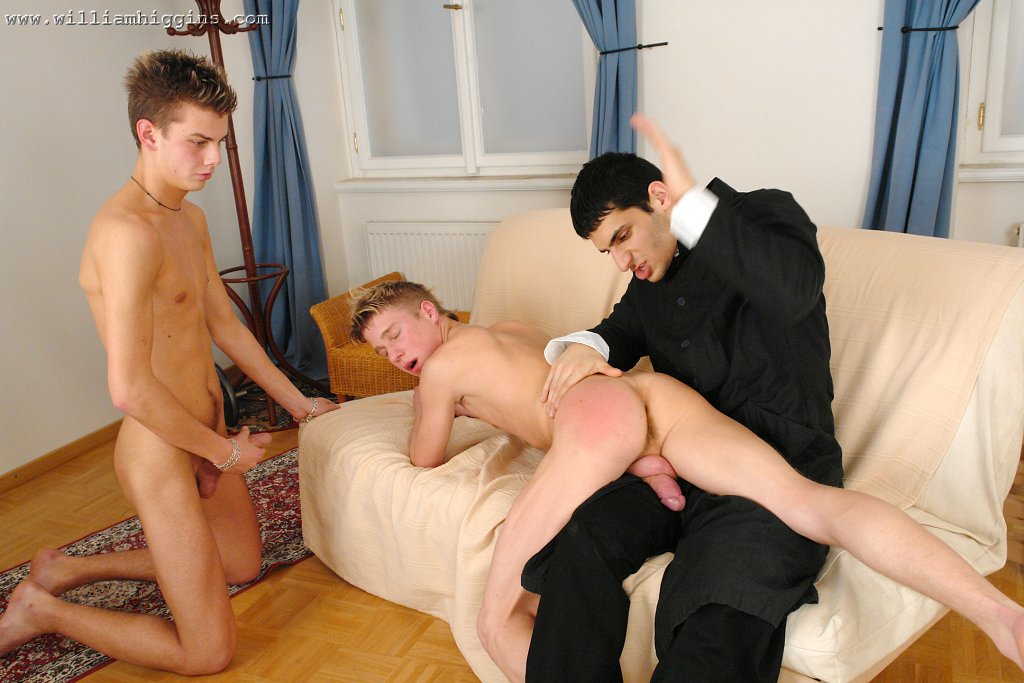 Click Here for earlier Instalments