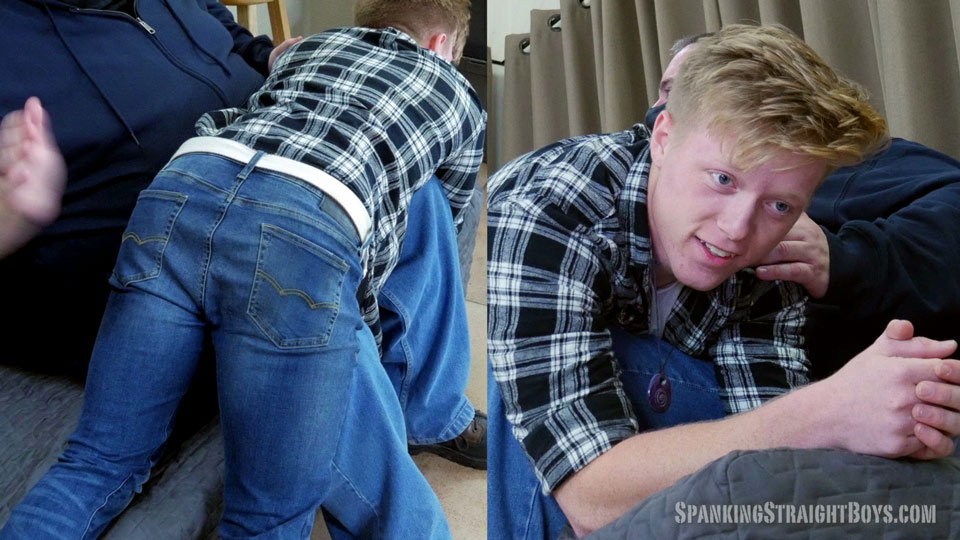 Spanking Straight Boys: Jeff's First Spanking
Jeff is a 20-year-old straight military boy with a cute face and amazing bubble butt. Before today, Jeff had never done any type of adult work.*
Though friendly and personable, like so many boys his age, Jeff is somewhat lacking in self-discipline. A misadventure during a trip to Hollywood cost him his job, so he decided to do adult videos.
Like almost all straight boys, Jeff would much prefer to do films in which he has sex with females. Unfortunately for Jeff and the others, that kind of work is hard to find, so Jeff agreed to get spanked by a man.
*
*
This video includes a brief interview and the entirety of Jeff's first spanking. In the interview at the beginning of this video, Jeff reveals that he is no stranger to physical discipline. He's had multiple paddles broken over his butt and gotten the belt more than once. He was even paddled in school by his principal. Despite that discipline, he was not the best student and developed a liking for recreational drugs.
Click Here or on the Continue Reading Tab below for more pictures and the video preview :
*
___________________
Jeff came into this spanking thinking it would be light and playful, like the ones he's seen in adult videos. Needless to say, he was sorely mistaken. Instead of light and playful, Jeff gets hard and serious. Tom orders Jeff over his knee (something else Jeff had apparently not expected). He then goes to work on Jeff's round butt with his hand, a wooden paddle and a leather belt.
*
Jeff's initial nervous smiles and laughter give way to a more sombre attitude as the spanking wears on. He grunts, groans, grimaces and squirms about under the onslaught of swats. Tom's paddle and hand are hard enough to take, but it's Tom's belt that really gets through to Jeff.
*
In the end, you'll see a chastened Jeff discuss the spanking he has received and how it varied from his expectations.

*
Video Preview
Click on the links on the pictures or links below to visit Spanking Straight Boys