If you enjoy role reversal with lashings of humiliation, then "Spanked by a Twink", the recent release by RELUCTANT YOUNG MEN might just be your thing.
In Part one we meet Twinky CJ and big beefy Scott. Scott has been taking advantage of the young models again and Rich caught him.  Now he's given the model permission to deliver a humiliating spanking to Scott.  Young C.J. turns out to be a very skilled spanker, especially when he's getting revenge and he really gives it to poor Scott, who's actually twice his size.  He starts out spanking him over his briefs before stripping him and continuing as Scott is made to stand submissively before him.  Scott really starts to cry out in pain when C.J. spanks him with the wooden frat paddle, his big cock and balls swinging between his legs with every blow.  When C.J. is warmed up he begins taking hard strokes, winding up before each one and making Scott call him sir as he gasps and cries out with every blow.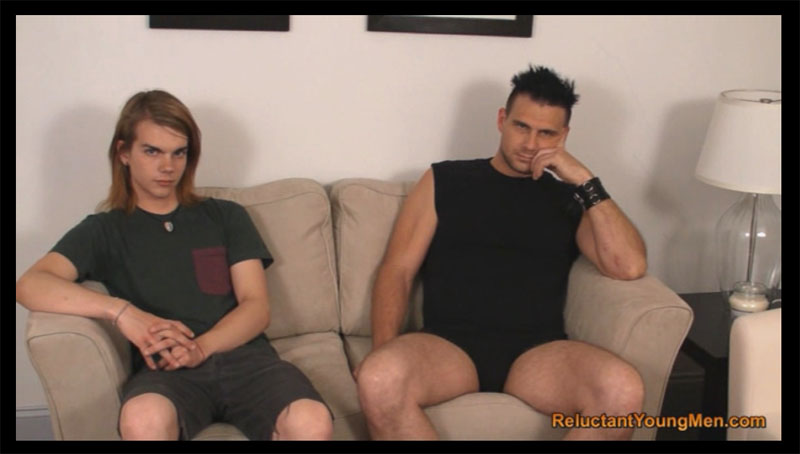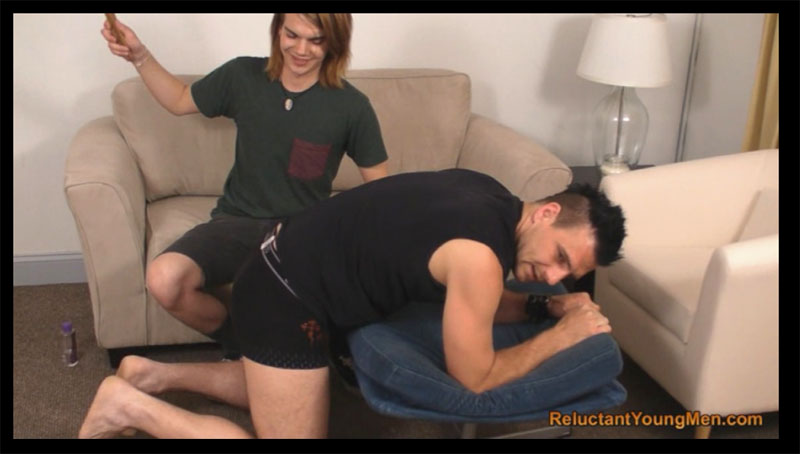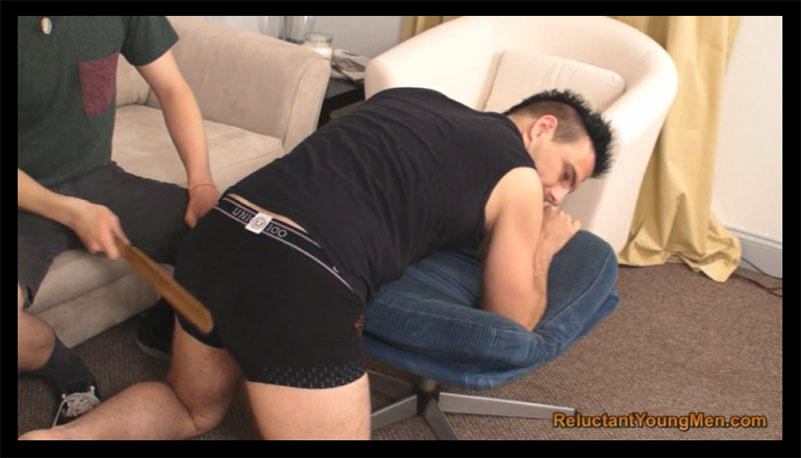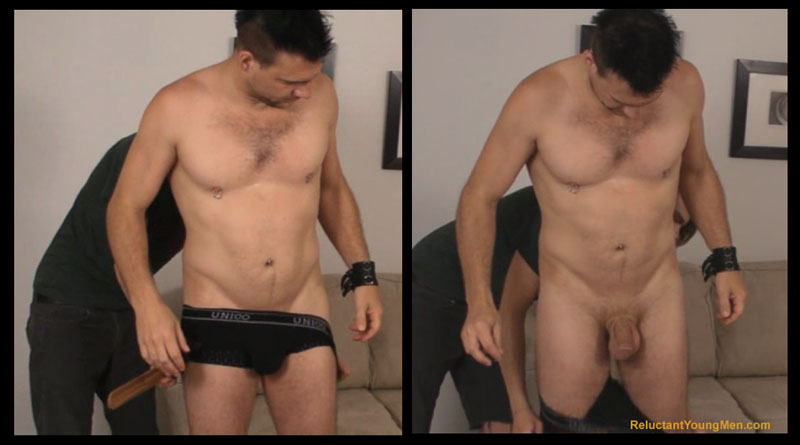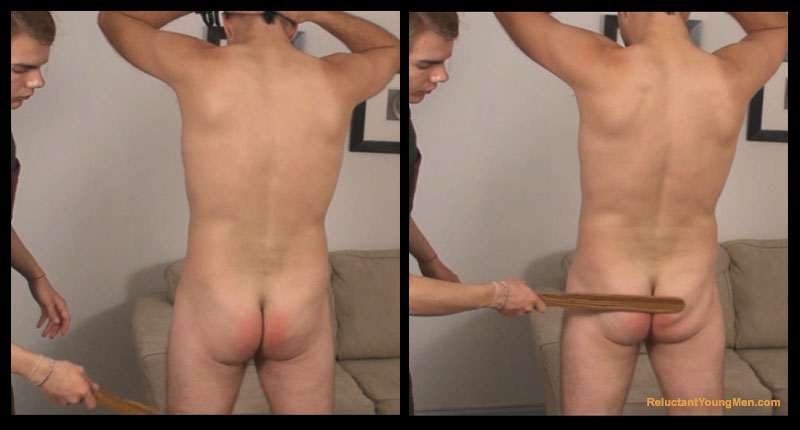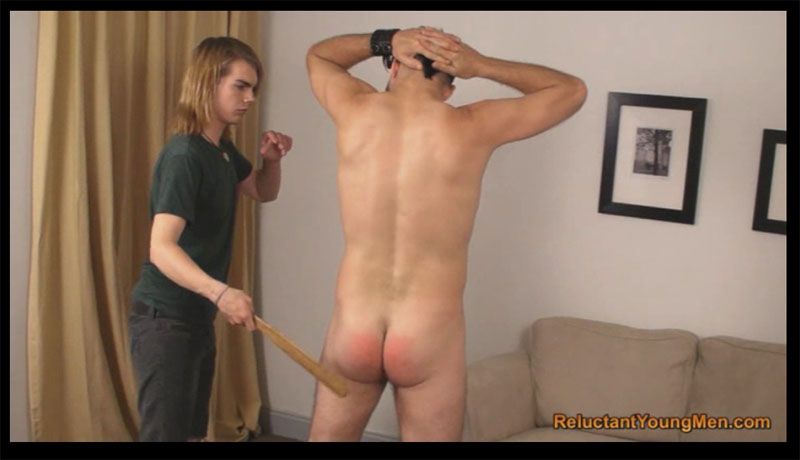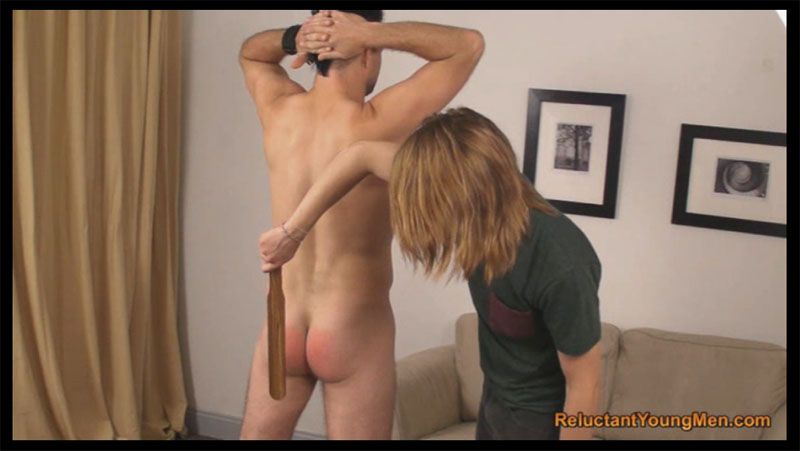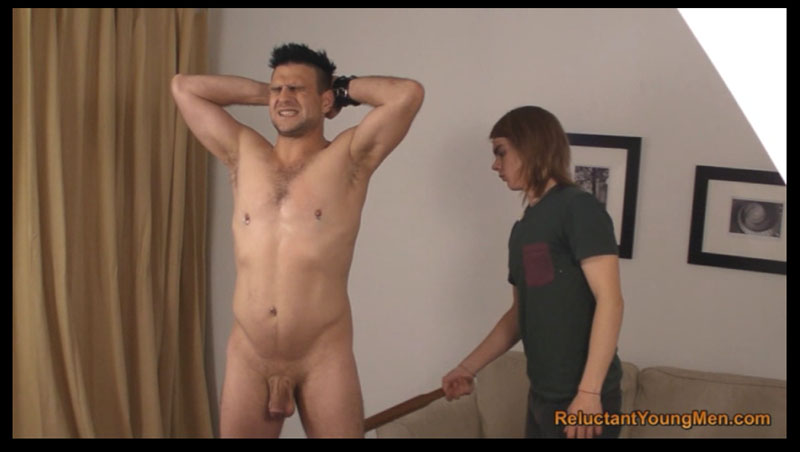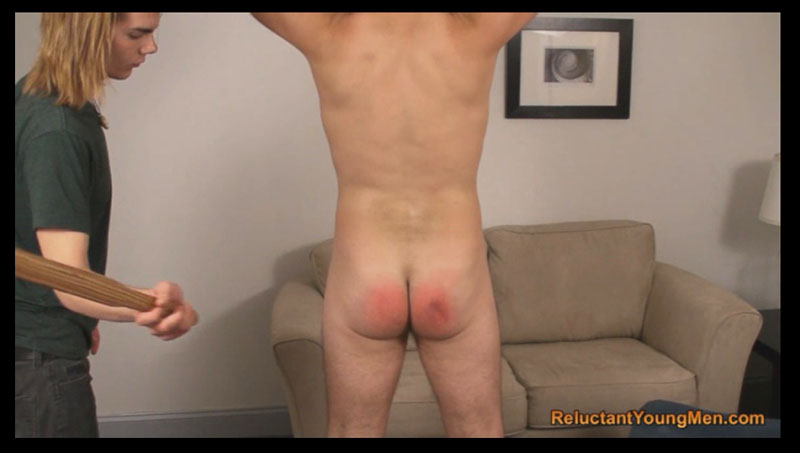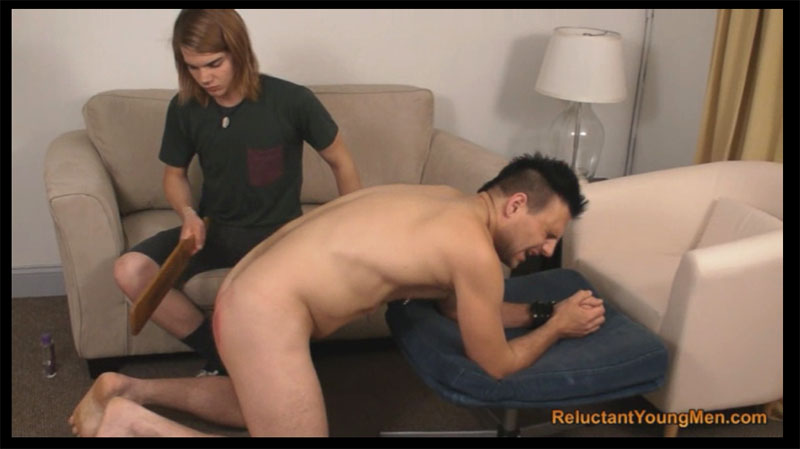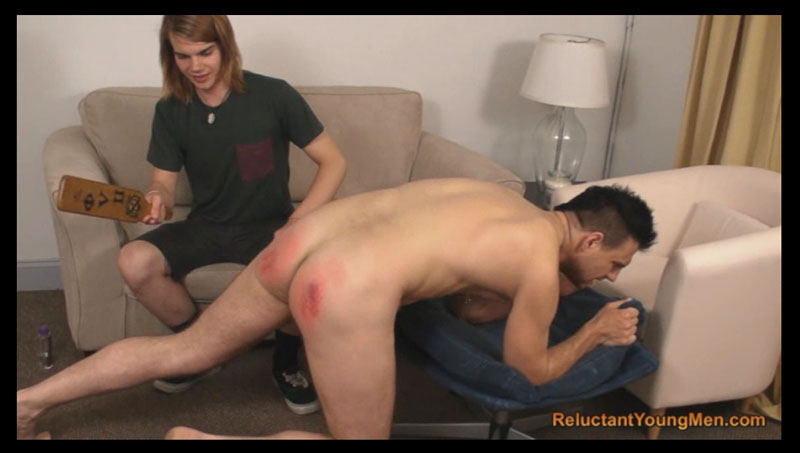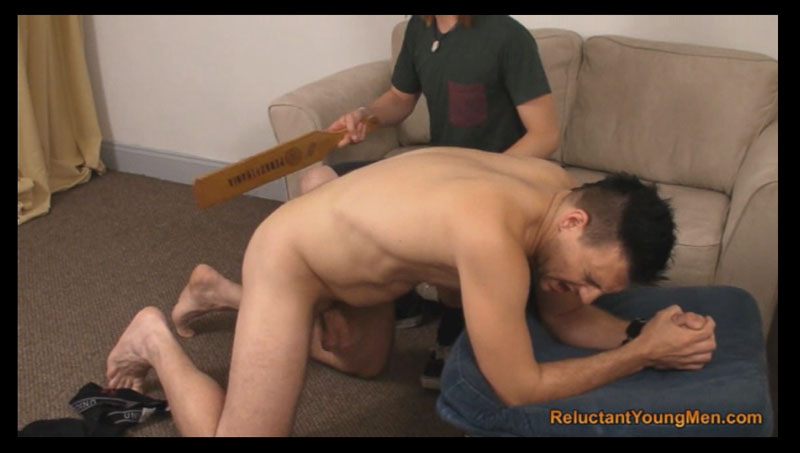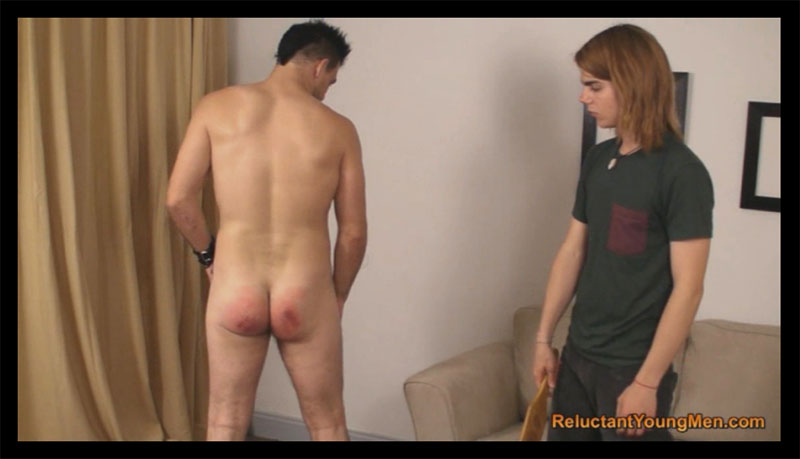 In Part 2, Scott is subjected to the humiliation of being taken OTK to continue the spanking from a gay twink half his size.  C.J. is really getting into this now, and his blows with the hairbrush are hard and surprisingly powerful considering his size, landing on Scott's beefy ass as he cries out in pain and kicks around on the younger guys lap.  The fact that he is being abused by, and unable to defend himself against this slight, young twink makes the spanking all the more humiliating for Scott, who grips his skinny ankle to  help deal with the pain.
But the worst is saved for last, and in Part 3 Scott gets a vicious whipping with a riding crop.  C.J. really knows  how to handle the crop, bringing it down on Scott's beefy ass over and over again.  Scott's body jerks and he cries out in pain with each stinging blow as he stands submissively, at the mercy of this young twink.
Images from Parts 2 and 3 appear in the storyboard below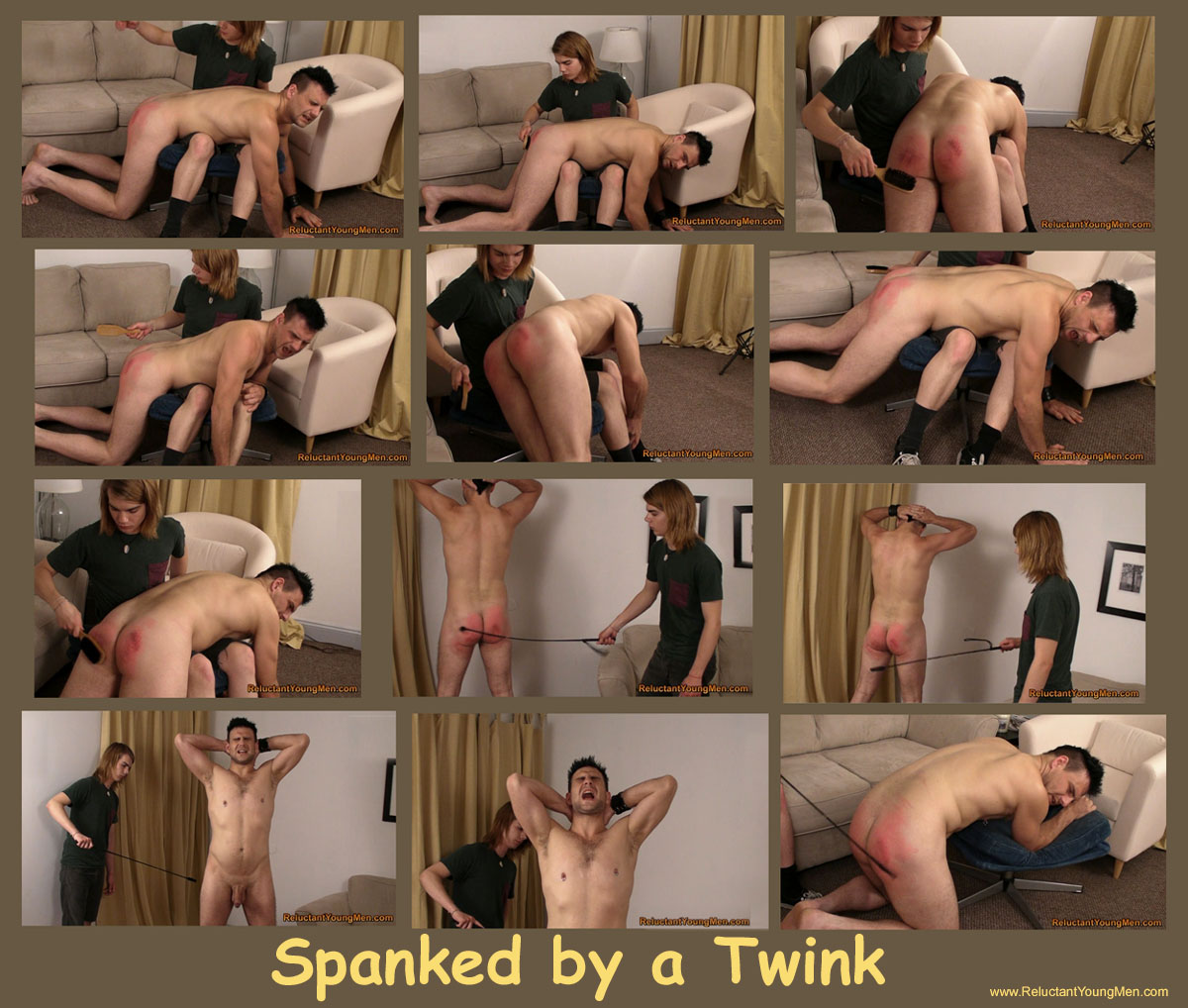 Preview video for "Spanked by a Twink" below