A SHORT HISTORY OF MALE SPANKING VIDEOS
MISCELLANEOUS VIDEOS
PART ONE
While we have reviewed most of the early production companies that specialized in male-spanking videos like Control-T, Studio-7 and Man's Hand, there were a number of other fetish studios that occasionally offered a video inspired by corporal punishment fantasies or short-lived companies that only turned out a few products. In this segment, as well the next, we will briefly touch on a few of these part-time providers.

KINK VIDEO PRODUCTIONS
Based in San Francisco, KINK VIDEOS has been around since the early 1990's, and true to their name, they specialized in a variety of fetish films including BDSM, tickle-torture, foot worship, shaving and – of course – spanking. Over the years Kink Videos produced just under twenty spanking videos. These include: "Bad Boys Get Spanked", "Butt Punisher", "Command of the Hand", "Discipline Delivery", "Good Dog", "Jason Miller Ready for Hard Punishment", "Make It Hurt", "Over My Knee", "Punished Good", "Punished (Part 1 and 2)", "Punishment", "Spank Me, Sir", "Spank My Ass", "The Spanking Zone", "Torture Clinic" and "Tortured Senseless."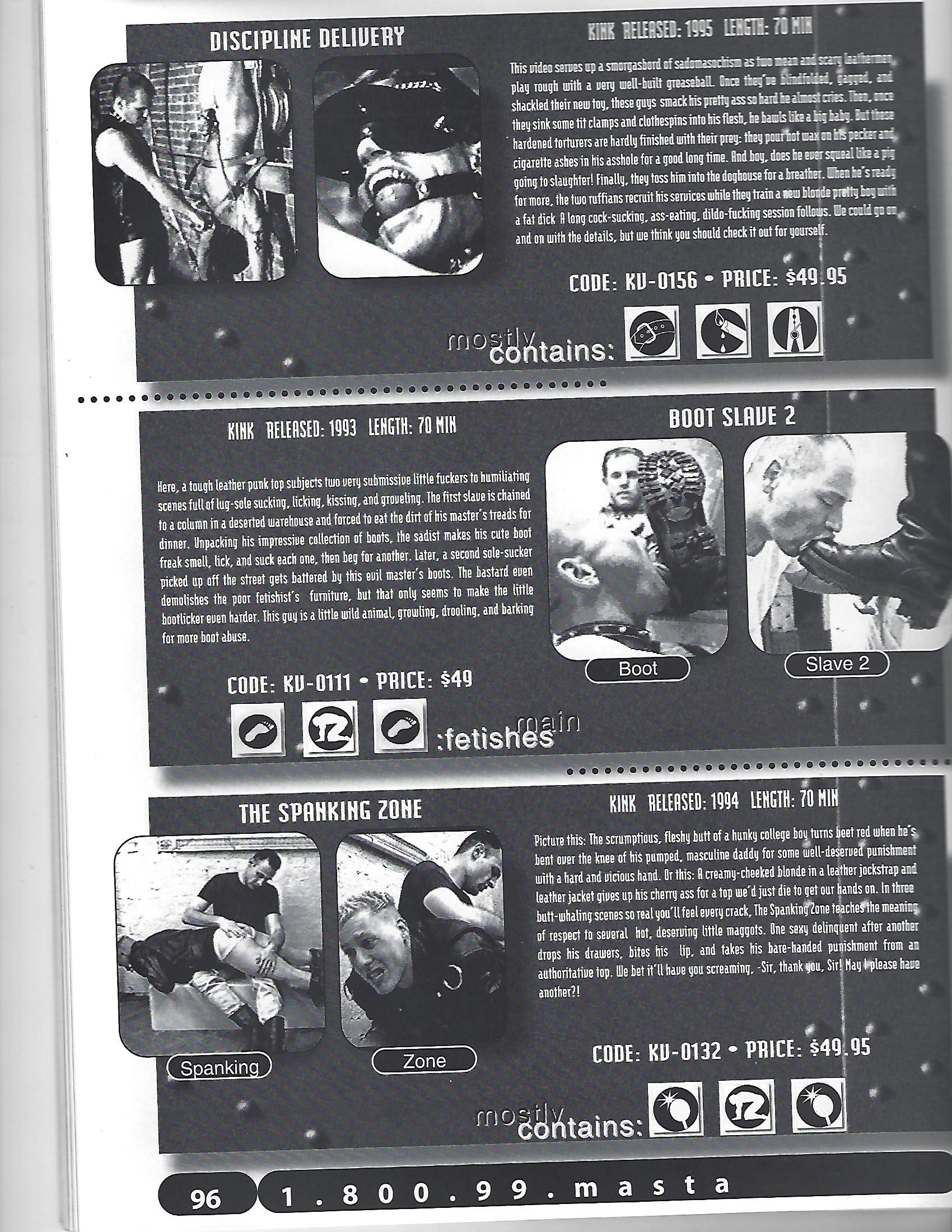 Kink Videos were originally released on VHS cassettes and later on DVD's that sold for $59.95. Currently Kink Video (kinkvideo.com) still maintains a membership site that includes about eight of their spanking titles. Memberships are $19.95/month, although they do have a 3-Day Trial Membership for $4.95. On their website, Kink Video also has a link to their studio on Clips4Sale where you can find the same spanking videos to download at a cost of $29.95 each. (TIP: If you want to search Kink's Clips4Sale site, start at the end and work backwards, since the spanking videos are some of the earliest offered).
*
Click Here or on the Continue Reading tab below to read more.
*
______________________
BOB JONES PRODUCTIONS
Based in Washington, D.C., BOB JONES PRODUCTIONS specialized in mostly bondage and torture films from the early 1990's. Featuring well known tops like Donnie Russo and Rick Bolton, Jones eventually shot a series of primarily spanking videos like "The Whipping Master," "Paddle Me, Spank Me" and "Blow by Blow". The spankings appear pretty staged with occasional moments of spontaneity, but overall were disappointing. Bob Jones videos sold for $49 – $59.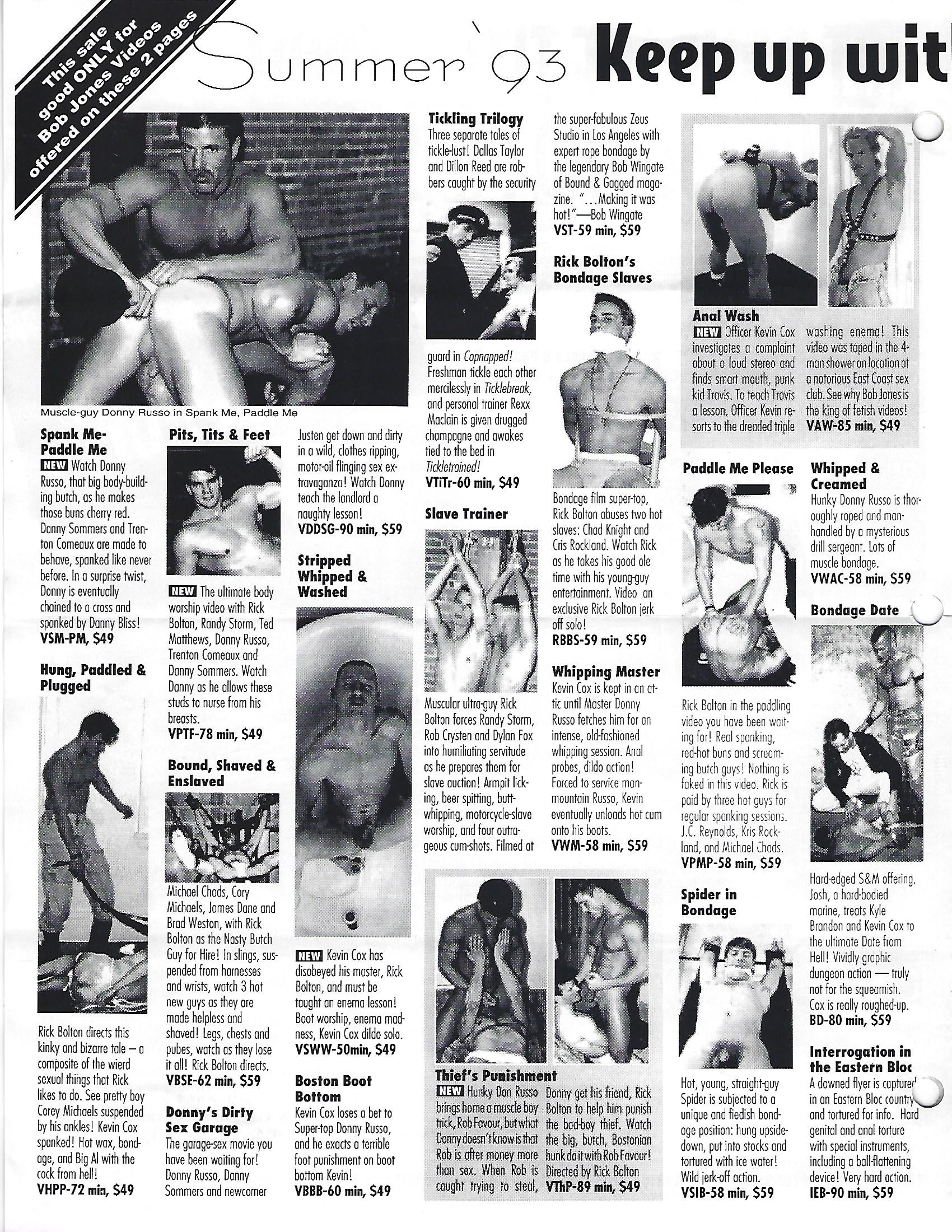 GRAPIK ARTS VIDEOS
Another San Francisco based producer that made BDSM films was GRAPIK ARTS. Beginning in 1986, they were the exclusive distributors for a large number of films produced and directed by Tom "Ropes" McGurk, with cute young boys being stripped, caged, tied down, shaved, tortured and eventually jacked-off. Almost all had some forms of corporal punishment incorporated into them, although they never produced a film with just spanking. Nonetheless, some readers might enjoy checking them out.
While the original studio has vanished long ago, McGurk still maintains a website with nearly 100 of his films. A one-month subscription is $29.95, although he does offer a 1-day trial for only a dollar. Viewers can also watch films by purchasing "minutes" for video-on-demand viewing. It can be found at tomropesmcgurk.com.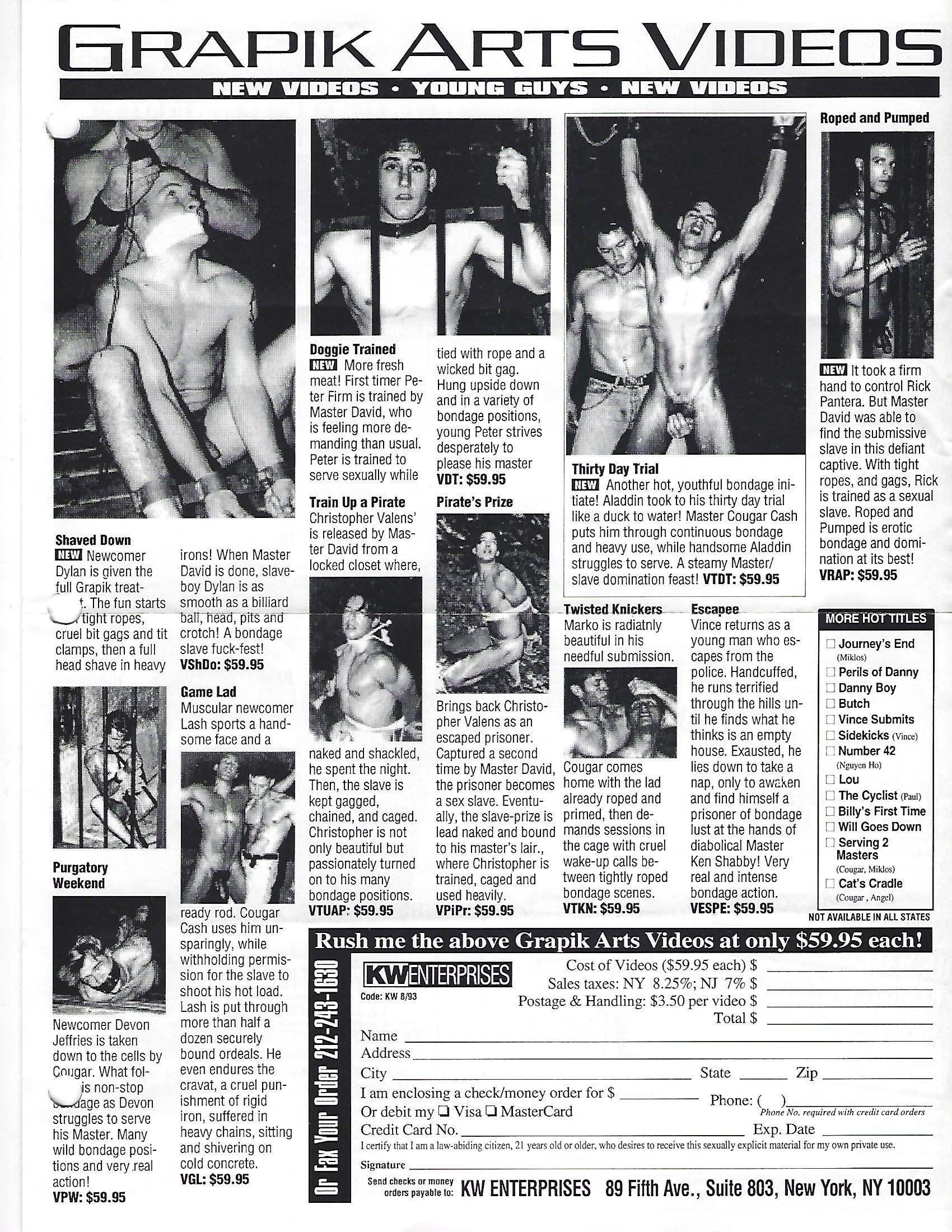 SPANK ME HARD
Associated with one of the spanking clubs located in New York City in the late 90's, SPANK ME HARD released several films that can best be described as "home movies." Shot from a single angle, the director often has conversations with the actors, pausing and re-shooting certain angles – none of which was edited. Some scenes were shot at their parties, with noise and music in the background. The guys are obviously into spankings, and the action is not punitive, but consensual fun that never gets very intense. I have no idea how many total videos were released, but I have "Boy Spank", "Who's Your Daddy" and "Cyber Spank" in my collection. I don't recall ever seeing any advertising or distributed photos for their films.
STERN TIME STUDIOS
Yet another truly amateur male-spanking video company was STERN TIME, run by "Mr. Lee" who was a paunchy, middle-aged man from Henderson, New York. He released a number of home movies of mostly himself administering spankings, but unlike most studios that hired good looking, younger models, Mr. Lee used the guys he regularly spanked – more middle-aged, paunchy men. Distributed by "Fun Productions" (Mr. Lee's other company) Stern Time Studios released about ten films that included: "Danny's Caning", "Little Brother in Trouble", "Mark Punishes Danny", "Male Discipline with Mr. Lee", "Mister Lee Punishes David", "Mike's Strapping" and "Scott's Training". The films ran around 30-minutes each and were promoted through the now defunct GaySpank.com site. To my knowledge, no one has even considered re-distributing these videos – even for free.
TO BE CONTINED
Click Here for earlier Instalments