Following a request after we posted Jason And Charlie – Brother in Charge 19, here is Brother in Charge 18, also featuring Jason and Charlie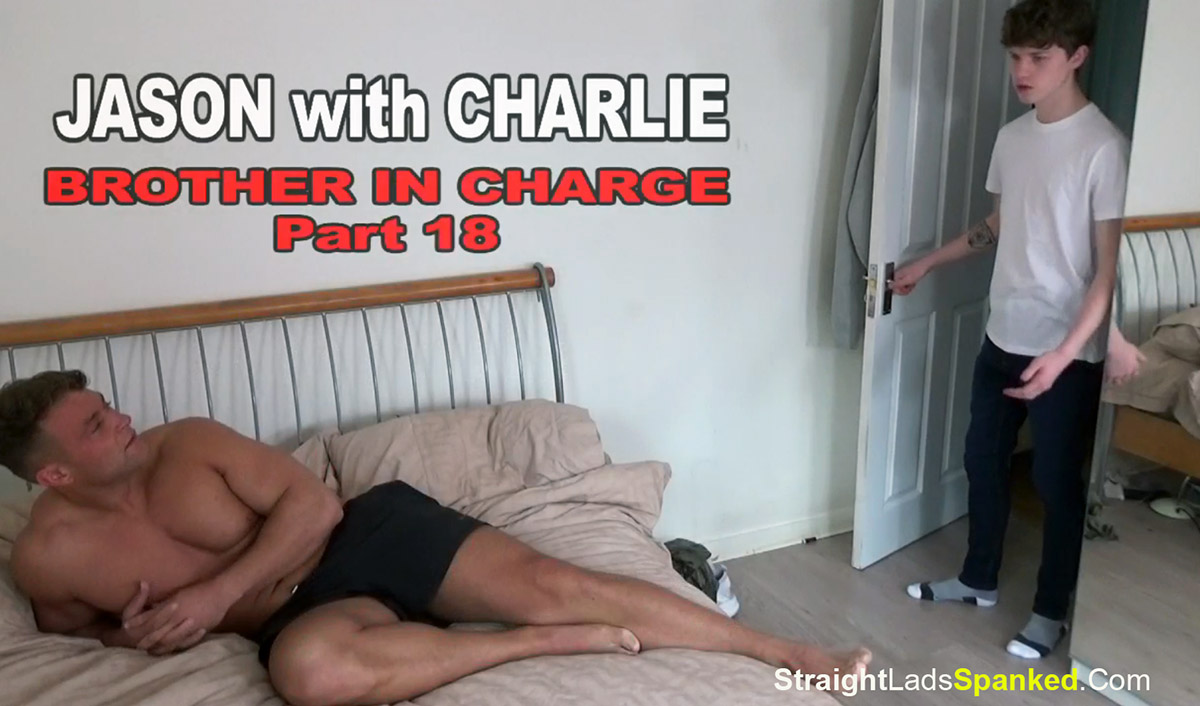 Jason and Charlie – Brother in Charge 18
You know how some lads just never seem to know when to keep their heads down and stay out of trouble? Well, Jason must be among the world's worst! In this release from Straight Lads Spanked, the young rascal has found out that his big brother, Charlie (and did anyone ever have quite so big a brother?!) has given his friend John a good spanking for leading him astray with some illicit smokes…. and he is mortified. As Charlie relaxes on his bed in just his shorts, Jason bursts in and starts mouthing off about how Charlie isn't his dad and had no business taking it upon himself to punish John. He is both embarrassed and humiliated, and he says he is going to complain to their dad. Whether he has really thought that one through, though, is debatable!
From the way Jason is behaving, Charlie begins to suspect that he has been misbehaving again, and he decides there and then that his stroppy little brother needs to be taught a lesson in manners and respect. And who could blame him?
Charlie hauls the brat over his knee and starts spanking the seat of Jason's tight blue jeans with his veritable ham of a right arm. The sounds of painful retribution fill the room as his hand cracks down hard on Jason's pert bottom again and again. Jason wriggles and struggles to get away, but it's pretty clear that Charlie has got a very firm hold on the lad, and he's not going anywhere until his brother has finished dealing with him.
*
Click the Continue Reading Tab below to see more
*
_____________
Showing commendable fraternal concern, Charlie tries his best to reason with Jason, and to convince him that he is only trying to help him and keep him out of trouble, but maybe that's a message that Jason was always going to find difficult to learn while he was bent over his big brother's knee getting his bottom smacked!
Charlie stands the lad up and tells him to take down his jeans, and a couple of seconds later he finds himself back over the knee, feeling the flat of a large and heavy hand warming the seat of his tight white pants. The lecture continues, punctuated by a damn good thrashing…. and from the language coming out of the ungrateful lad's mouth, it's easy to conclude that he deserves every single smack.
It's not long before the tables are turned when it comes to the thorny subject of Dad being informed. When Charlie says that he feels Dad should be told what has happened, Jason has a sudden change of heart, and begs him not to tell. You can't help but suspect that the naughty lad knows exactly what Dad will do if he finds out!
The first thing you should learn when you're in a hole is to stop digging…. but it seems that's another lesson that Jason has yet to learn. He continues mouthing off, which is pretty unwise when he's over Charlie's knee with his trousers down, getting a good spanking!
Charlie proceeds to pull down his kid brother's pants and smack him hard on his bare bottom, which is soon looking very red and very sore.
Jason begs him to stop and Charlie says he will…. but not before he has delivered some final rapid-fire smacks to drive the message home once and for all!
Jason is a lucky lad to have a big brother like Charlie looking out for him…. and when he can sit down comfortably again, maybe he will realise that! Although maybe he won't be sitting down for a while
Jason and Charlie – Brother in Charge 18
*
Straight Lads Spanked at Clips4sale
*